Scuba diving in Tenerife is one of the activities you can't miss if you visit the island on holiday or if you live here.
Diving Courses in Tenerife

Tenerife is a great place to take your scuba diving courses, beginners and advanced divers will find the right diving course for them.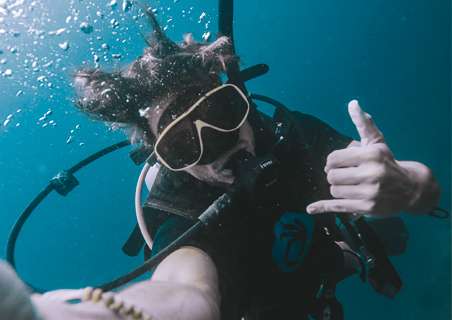 Open Water Course in Tenerife
3 days
395€
The Open Water course is the world's most popular scuba diving course, designed and developed specifically for beginners. This diving course is the first step in a fascinating adventure that will make you a certified, internationally licensed diver for life!
The Open Water license will allow you to dive anywhere in the world up to a depth of 18 metres / 60 feet. No previous experience is required to start the Open Water Course, and you can complete it in only 3 days!
The Open Water course itinerary is as follows:
Day 1: Class + Confined Water Training Session (shallow shore dives on the beach).
Day 2: Class + 2 dives (max. depth 12 mts.)
Day 3: 2 dives (max depth 18 mts.) + Examination
Start your diving adventure with the Open Water course in Tenerife!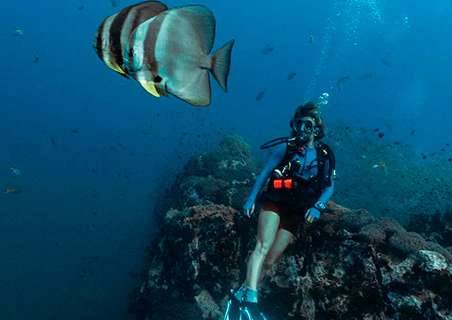 Scuba Diver
2 days
250€
In just 2 days, you can learn the fundamentals of diving while enjoying 2 open water dives at a máximum depth of 12 meters.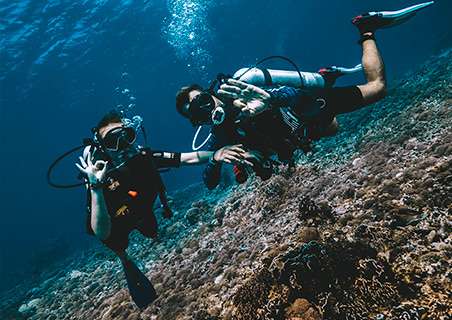 Try Scuba Diving in Tenerife
1 day
Try Scuba 1 Dive: 95€
Try Scuba 2 Dives: 130€
The Try Dive or Try Scuba Diving program is a 1-day diving experience for beginners, which gives you the opportunity to get to know the underwater world of Tenerife.
The Try Scuba Diving experience can include 1 or 2 dives and does not require any previous experience. It is also an excellent activity for children,who can do it from 10 years old.
One of the best places to do your first dive in Tenerife is at Los Cristianos, where you will enjoy an easy and fun dive,with the chance to see lots of fish and even turtles!
Advanced diving courses in Tenerife
If you are already a certified diver, there are many other diving courses you can take in Tenerife. Here are some of the options available for Open Water certified divers.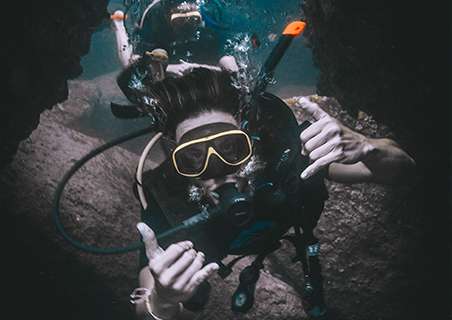 Advanced Diving Course
3 days
345€
If you already have your Open Water certification and want to take the next step you can sign up for the Advanced Course, which involves a total of 5 dives and gets you certified to dive to a depth of 30 metres / 90 feet.
During your Advanced course you´ll do a night dive, a deep dive to 30 mts and even a wreck dive!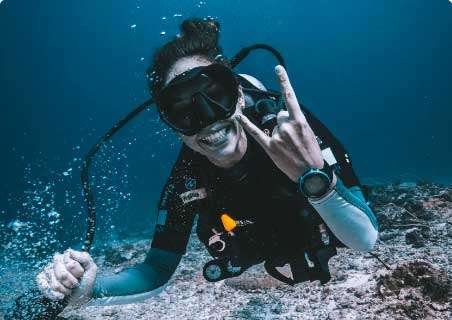 Specialty Courses
Other options for certified divers are Specialty Courses, where you will learn more in-depth about a specific technique or type of diving.
Some of the most popular specialty courses are:
Stress & Rescue Course:
295€
React Right EFR:
110€
Enriched Air Nitrox Specialty:
125€
Deep Diving Specialty
There are a lot of specialties to choose from, if you want to know more details about each one just drop us a message, we will gladly advise you about all the different options!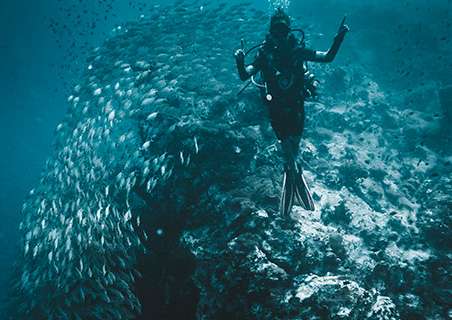 Dives for Certified Divers
You are already a certified diver and you want to do some dives in Tenerife? Great idea! There are plenty of dive sites to visit in Tenerife to suit all preferences and experience levels.
Some of the favourite options for recreational diving are shipwrecks. In the next section, we share details of some of them:
1 shore dive:
55€
2 shore dives:
100€
1 dive (boat):
65€
2 dives (boat):
110€
Refresh:
95€
Night Dive:
75€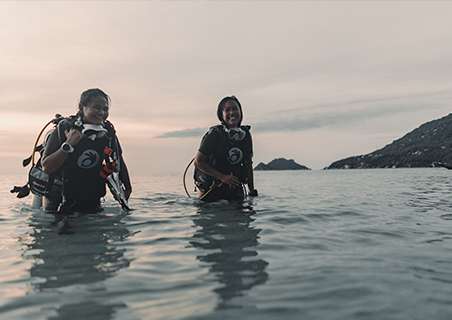 Divemaster
6-8 weeks
1,300€
Dive into a 2-month Divemaster course, merging learning and diving. Assist courses, learn from instructors, and engage in Dive Center operations for expert underwater skills and certification.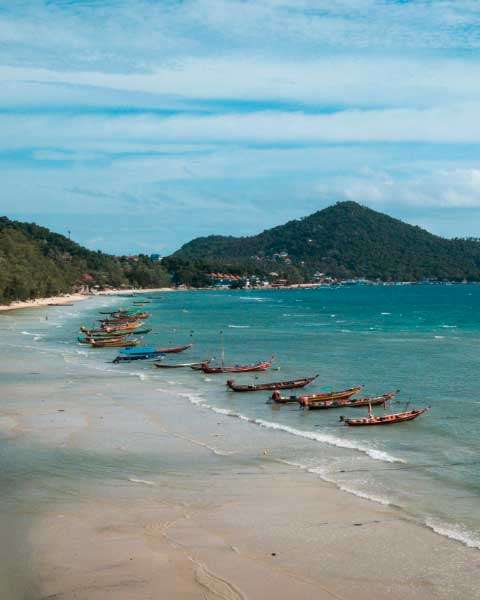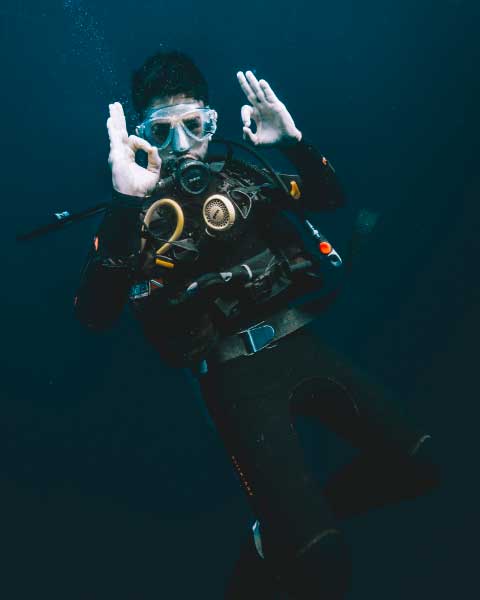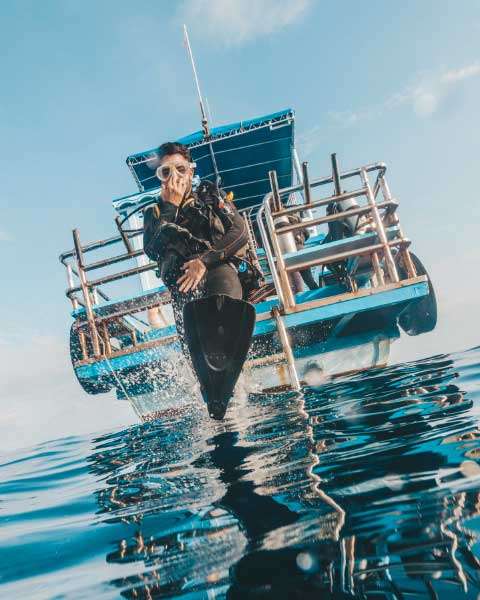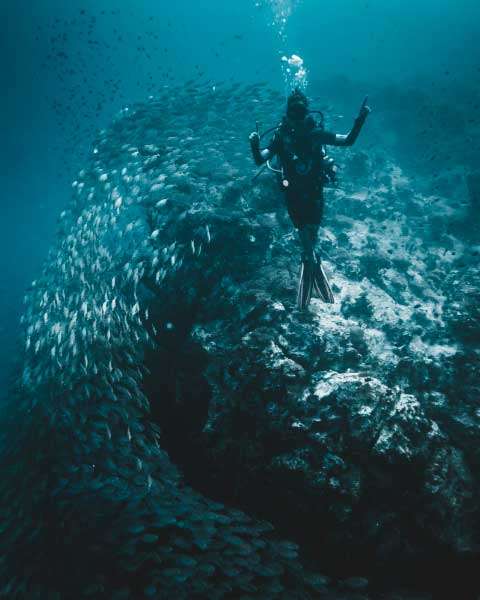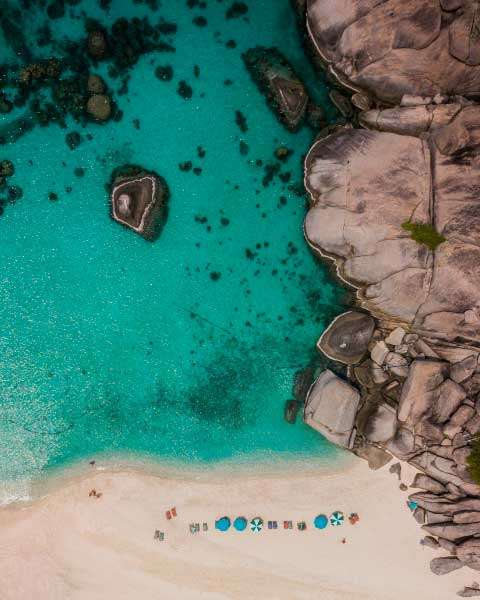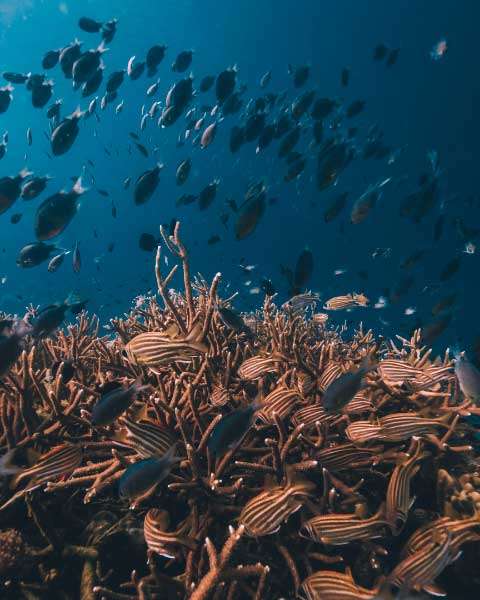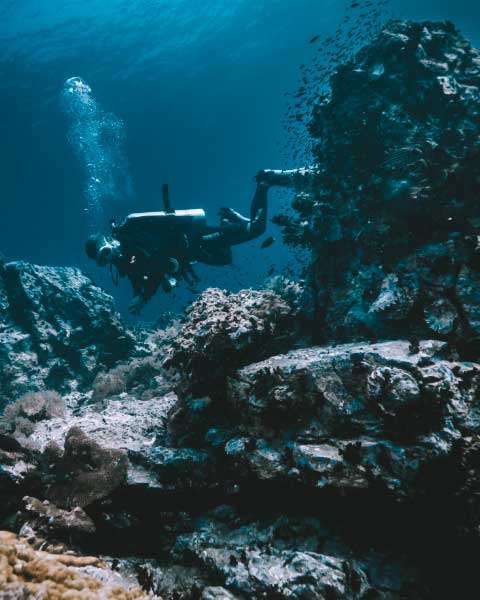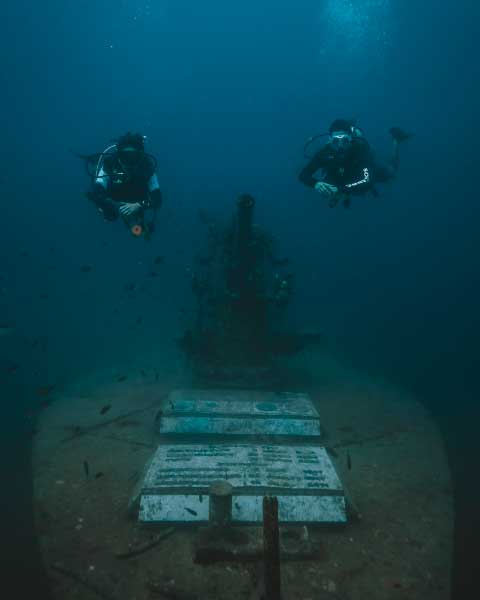 What you'll see diving in Tenerife
How is Scuba Diving in Tenerife?
Tenerife island has excellent conditions for scuba diving and snorkeling at any time of the year. The water temperature is very pleasant and the visibility under the sea is exceptional!
Water temperature reach 20 degress in the winter and 24 in the warmer season (by the end of the summer)
Diving in Tenerife you can spot sea turtles, rays and manta rays, octopus, moray eels, and a variety of other species such as angel sharks (a kind of shark typical of the area) and even dolphins!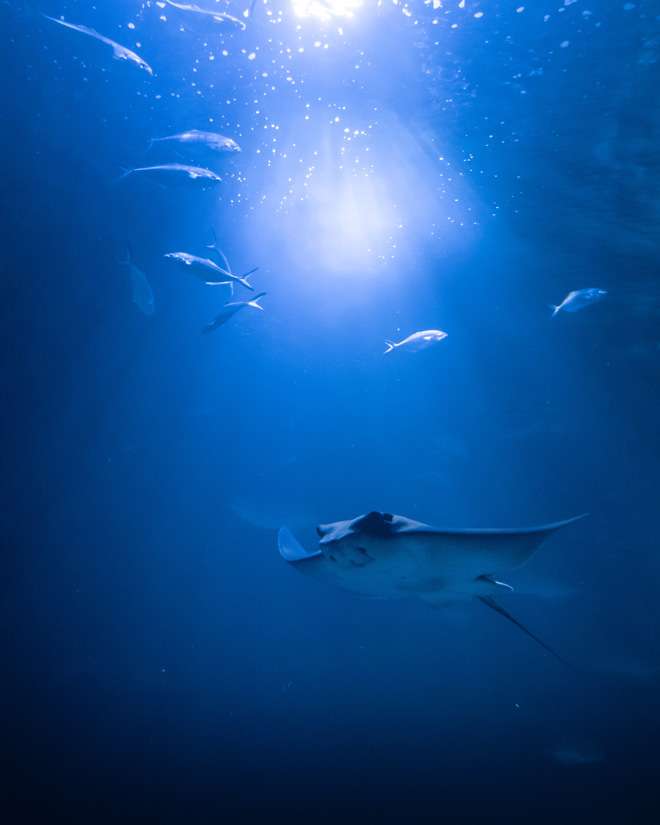 DPM Diving recently opened its new dive centre in Tenerife, located in Costa Adeje in the south of the island.
Our team is made up of experienced instructors with a passion for teaching scuba diving.
After 7 years of experience, our company has taught and guided more than 11,000 divers at our centres in Thailand, Indonesia and Egypt. 
We will be happy to accompany you under the waters of Tenerife to give you an unforgettable experience! 
Contact us and book your scuba diving course, registration is now open!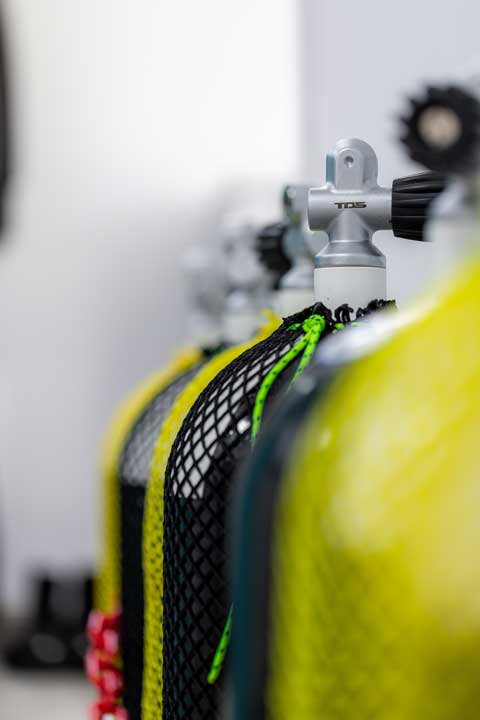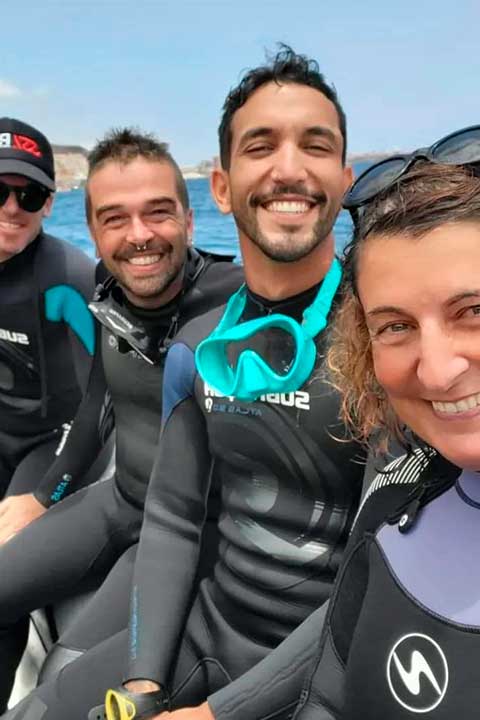 Tenerife is a paradise for water sports enthusiasts. And not just because it's an island, but also because of its idyllic climate conditions year-round, the visibility of its waters, and the biodiversity of the underwater environment. While scuba diving is the most comprehensive way to discover...
read more
Frequently asked questions about Diving in Tenerife
Where to scuba dive in Tenerife?
Tenerife is an island with an infinite number of options for scuba diving thanks to its seabed with ample visibility and calm areas without currents all year round. Although in the north you can find good diving areas, the most popular ones are in the south of Tenerife. DPM Diving is located in Costa Adeje, next to Fañabé beach, in one of the most interesting areas from which to explore the island's underwater world.
Where to dive in Tenerife Los Gigantes?
Los Gigantes is one of the best diving areas in Tenerife. Its seabed features caves sculpted by past eruptions and a multitude of species can be seen, such as moray eels, gorgonians, crustaceans and anemones. Some of the best dives are at Punta Barbero, Barranco Seco or Las Cuevitas.
What are the best diving spots in Tenerife?
At DPM Diving we recommend the south of Tenerife for its weather conditions, water temperature and the absence of currents most of the year. There are many amazing places to dive in the area around Costa Adeje, either from the beach or by boat.
What are the requirements to get certified for diving in Tenerife?
Anyone can go scuba diving. It is only necessary to prove a good state of health, for which a medical certificate or a responsible declaration is required. If you have already dived, you need your Open Water Diver certificate and diving insurance.
Prices for Scuba Diving Courses in Tenerife
Open Water Course: 395€
Advanced Adventurer: 345€
Try Scuba 1 Dive: 95€
Try Scuba 2 Dives: 130€
React Right Course: 110€
Stress & Rescue Course: 295€
Adventures: 95€
Nitrox (theory): 125€
Prices for Fun Diving in Tenerife
1 shore dive: 55€
2 shore dives: 100€
1 dive (boat): 65€
2 dives (boat): 110€
Night Dive: 75€
Divemaster Course Price
Scuba Instructor Course Price
Scuba Diving Instructor Course: 2100€
Crossover SSI: 900€
Diving Tenerife Prices
Tenerife has more than 30 dive sites all along the coastline, suitable for all types of divers. Both beginners and experienced divers can find dives in Tenerife to perfectly suit their needs. Here are the most emblematic dive sites in Tenerife, by zone.
Tenerife South Dive Sites
The south of Tenerife has many dive sites, most of them of low to medium difficulty, being the best area for inexperienced divers.
However, if you are already an experienced diver, you will also find a lot of fun dive sites!
Puertito de Armeñine: This is a quiet bay on Costa Adeje, very popular for beginners and first dives.
Faro de Punta Rasca: The Faro de Punta Rasca is located between Los Cristianos and Las Galletas. This dive site is very versatile, as the dive can be adapted for beginners or experienced divers.
Montaña Amarilla:

 

This dive site is located opposite Costa del Silencio. The depth varies between 15 and 25 metres, so it is ideal for Open Water and Advanced divers.
On this dive you can enjoy a very peculiar landscape, volcanic reefs and species such as lobsters, trumpet fish and eels.
El Bufadero:

 

This dive site located in Los Cristianos stands out for the possibility to dive with sea turtles.
The dive is suitable for all levels, and in addition to turtles you can see rays, octopus and cuttlefish.
El Meridian (Wreck): The wreck El Meridian was a German warship used during the Second World War as an auxiliary ship, dedicated to maritime surveillance and mine sweeping.
During this dive we can also enjoy sightings of stingrays, moray eels, grouper, abbots, or even dolphins and sharks!
Wreck El Condesito: El Condesito was a ship carrying cement from Gran Canaria, sunk in an accident in 1973 in the area of Punta Rasca, after hitting the rocks during a storm.
There are many other dive sites in the South of Tenerife, if you want to explore them please do not hesitate to contact us!
Tenerife North Dive Sites
The northern area of Tenerife has dive sites with a higher level of difficulty, so they tend to be suitable for experienced divers.
These are some of the most outstanding dive sites in the Northern zone of Tenerife.
Garachico Tunnel: The Garachico Tunnel was formed by the ancient volcanic activity of the island. The tunnel starts at a depth of 12 metres and descends to a depth of 20 metres.
From there the dive continues to 20 metres deep, where you can enjoy an abundance of marine life, such as shrimps, Canarian lobsters, nidubranchs and much more!
Wreck of Tabaiba: one of the most emblematic wreck dives in Tenerife. It is located on the northeast coast of the island, in front of Tabaiba. The ship was sunk in 2006 with the intention of creating an artificial reef.
The maximum depth is 32 meters, and it is a very large ship so it is possible to penetrate it, as long as you are certified! As for the marine life, you will be able to spot octopus, moray eels, cuttlefish and groupers among many other species.
La Catedral: The location of this dive site is close to Puerto de la Cruz, so the boat trip takes place from there. This dive has incredible rock formations, starting at 6 metres and reaching a depth of 40 metres.
The light enters through holes in the rocks, creating a spectacular atmosphere and scenes. Amongst the species that you can enjoy on this dive are red gorgonians, groupers, sardines, moray eels and bream. This dive is recommended for advanced divers.
There are other very interesting dive sites in the northern area, most of them for experienced divers.
If you want to know more, contact us, we will recommend you the best dive according to your preferences and experience level.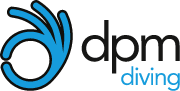 Address:
CC Costa Torviscas, C. Valencia, 4, Costa Adeje, Santa Cruz de Tenerife, 38660, Spain
URL: https://dpmdiving.com/locations/dpm-diving-tenerife/