Become a Divemaster in Nusa Penida
At DPM you'll find a wide range of Divemaster Course Packages.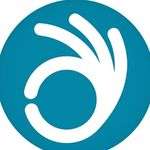 Divemaster Nusa Penida: Professional Diving next to Bali
The passion for diving begins with the first immersion. Because after that, another one comes, and another, and many more. And gradually, you start to turn that love for the underwater world into a profession. That's the goal of the Divemaster course, a certification for divers with more than 40 dives who want to go further, improving their skills and their ability to guide other divers. If you're at that point, keep reading! In our DPM Diving school in Nusa Penida, we offer the Divemaster course in the unparalleled setting of one of the most spectacular islands in Indonesia.
Divemaster Nusa Penida Course: All you need to know
Everyone has heard of Bali, or even the Gili Islands. But fewer are acquainted with the attractions of nearby Nusa Penida, a perfectly-sized island to explore with breathtaking dive sites to connect with the underwater world. We can't think of better places than this to test your skills through the Divemaster course, thanks to its overwhelming marine life, diverse environments, unique weather conditions, and much more. Our team of instructors will ensure you make the most of the course and, of course, obtain your SSI certification. Are you up for it? We'll tell you more.
What is the Divemaster course?
The Divemaster course is a must for any diving enthusiast. Firstly, it allows you to pursue a professional career in what you love, serving as the gateway to becoming a dive instructor. Secondly, it helps you deepen your knowledge and skills to maximize your underwater experience, making you feel more confident and capable of handling various situations and guiding other divers.
Additionally, you will learn to assess and manage risks, recognize signs of stress in other divers, and be prepared for any emergency situation. The training includes first aid and cardiopulmonary resuscitation (CPR) practices, ensuring that you are well-prepared to respond quickly and effectively to different levels of emergencies.
Course duration and schedule
The Divemaster course typically lasts from 4 to 8 weeks, allowing for some flexibility based on the student's availability. If completed intensively, you can be ready for certification in just 4 weeks. Alternatively, if you have more time to enjoy the process at a more relaxed pace, it can extend up to 8 weeks. Please note that dive sessions are usually scheduled in the morning, and theoretical classes take place in the afternoon.
In any case, feel free to consult with us, and we'll provide guidance to offer you the best personalized option to complete your Divemaster course in Nusa Penida.
Requirements for the Divemaster course
The Divemaster course is an intermediate certification that requires a minimum of 40 logged dives, as well as the completion of the Diver Stress and Rescue course.
Divemaster Nusa Penida Course Price
Contact us directly for an updated price on the Divemaster course. The course includes all materials and exam fees. The examination is official and conducted by an independent organization such as SSI.
SSI Divemaster Nusa Penida: Get Your Certification!
At DPM Diving, we have been training divers of all levels for over 10 years, specializing in the Divemaster course. We are passionate about the opportunity to educate new diving professionals, largely because we aim to create ambassadors for the oceans—individuals who respect the marine environment and share that passion with fellow divers.
The SSI certification, an internationally recognized diving association, is obtained after completing a multiple-choice exam. The knowledge required to pass this exam with ease can be acquired through the Divemaster course we offer in Nusa Penida.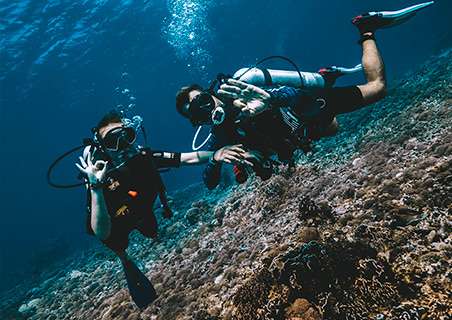 Book the Divemaster Course in Nusa Penida

The Divemaster course is a journey that goes beyond a mere certification. It is a true immersion, both literally and figuratively, into a remarkable, exciting world filled with elements waiting to be discovered. Here, you will join a community of passionate professionals dedicated to marine preservation and education.
Book your Divemaster course in Nusa Penida now and embark on the path to guiding other certified divers, opening opportunities to work in dive schools around the globe.
Benefits of becoming a Divemaster in Nusa Penida
Becoming a Divemaster in Nusa Penida offers a range of benefits, including:
Professional Development:
The Divemaster course is a significant step in professional diving, providing advanced training and skills development. It opens doors to further opportunities in the diving industry.
Global Opportunities:
With an internationally recognized certification, you can find job opportunities in dive schools worldwide. The skills acquired during the Divemaster course make you a valuable asset in the global diving community.
Personal Satisfaction:
Guiding certified divers and contributing to their underwater experiences can be personally rewarding. As a Divemaster, you play a crucial role in fostering a love for the ocean and promoting responsible diving practices.
Exploration of Diverse Marine Life:
Nusa Penida is renowned for its rich and diverse marine ecosystem. As a Divemaster, you have the chance to explore and guide others through the breathtaking underwater landscapes and encounter unique marine species.
Community Engagement:
Joining the Divemaster community means connecting with like-minded individuals passionate about marine conservation and education. It offers a supportive network of professionals who share a common love for the ocean.
Preservation Advocacy
The course emphasizes marine preservation, making Divemasters advocates for sustainable diving practices. This knowledge allows you to contribute to the protection of marine environments and educate others on responsible diving behavior.
Meet our certified dive instructors on Nusa Penida
The foundation of our success lies in a great team. We have experienced instructors who will provide you with everything necessary for you to enjoy the course and acquire the knowledge needed to achieve your certification.
Frequently asked questions about Nusa Penida
How long does the Divemaster course take?
It can take from 4 to 8 weeks, according to your own needs.
What certification level or experience is required?
To start with the Divemaster course you need to be certified as Stress & Rescue Diver.
How many dives do I need to start with my Divemaster training?
To start with the Divemaster course you need a minimum of 40 logged dives. If you don't have it yet, don't worry! We can make a personalized plan for you to complete the dives required.
Do I need to have my own full equipment?
We encourage our students to have their own full equipment, and we help you get great deals on all the dive gear you need. Anyway, if you can't afford to buy everything together, you can use part of our equipment during your training.
Does the price include certification fees?
All fees and materials are included in the price. There are no hidden fees or extra costs to pay to get your certifications.
Can I work as a Divemaster? What can I do?
As a Divemaster, you can work as a guide for certified divers. You can also assist Dive Instructors during recreational level courses.
In what language will I learn?
Our Instructors in Gili can teach in English and Spanish, and you can also choose the language of your study material.