Explore incredible coral reefs surrounded by stunning marine life while diving in Phi Phi Islands.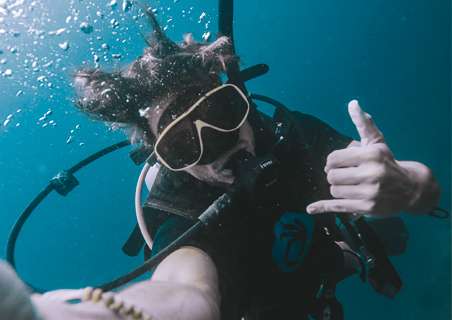 Open water diver
3 days
12,900 THB
Get Certified with the 3-day Open Water Course. International and lifetime certificate to dive anywhere in the world to 18 meters (60 feet) depth.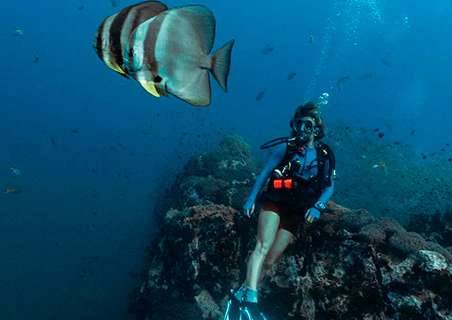 Scuba Diver
2 days
8,500 THB
Embark on the scuba diver course to unlock the mesmerizing world beneath the waves. Gain expertise in diving, equipment, and underwater navigation for unforgettable aquatic experiences.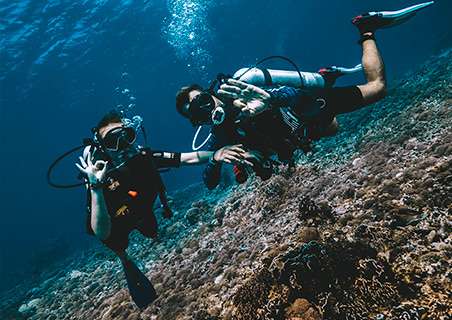 Try Scuba (2 dives)
1 day
3,400 THB
Try scuba diving in Phi Phi even if you never tried it before. Our 1 Day Experience for complete beginners includes 2 dives to discover the stunning marine life around Koh Phi Phi. Maximum depth 12 meters.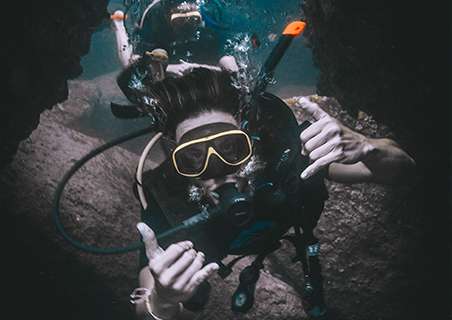 Advanced course
2 days
10,900 THB
Already Certified? Dive deeper and improve your diving skills with the Advanced Adventurer course. You'll be able to dive to 30 mt (100 feet) dept.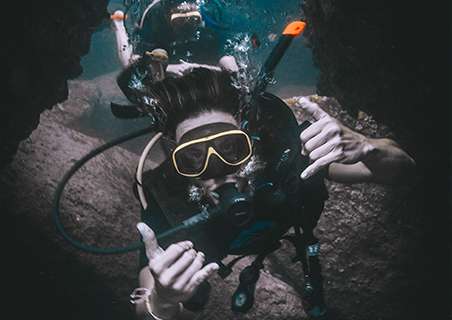 React Right
1 day
3,800 THB
Experience SSI's React Right emergency training, covering primary assessment, first aid, CPR, and stabilization. Optional components include oxygen administration and defibrillation basics, ensuring readiness for various situations in just one day.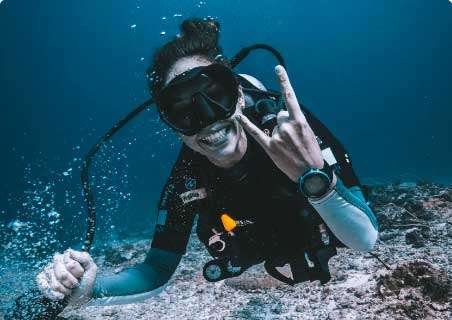 Nitrox Specialty
2 days
7,000 THB
Discover the SSI Enriched Air Nitrox Specialty program, learning safe enriched air diving with up to 40% oxygen. Enjoy extended bottom times, heightened safety, and shorter surface intervals, ideal for dive trips and liveaboards.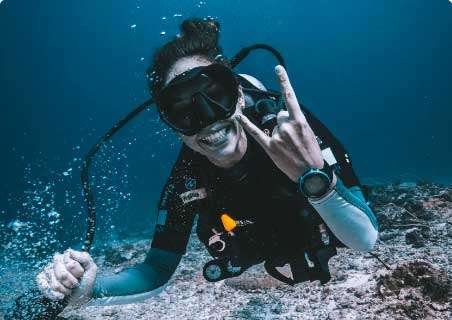 Rescue
2 days
13,200 THB
Stress poses a risk in diving, impacting safety and rescues. The SSI Diver Stress & Rescue course empowers you to recognize stress, prevent accidents, and adeptly manage emergencies, fostering underwater confidence and safety.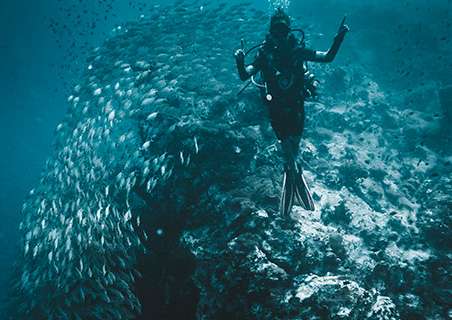 Deep Specialty
2 days
6,000 THB
Join our 2 dives trips in the morning or afternoon boat in small groups and guided by our experienced instructors.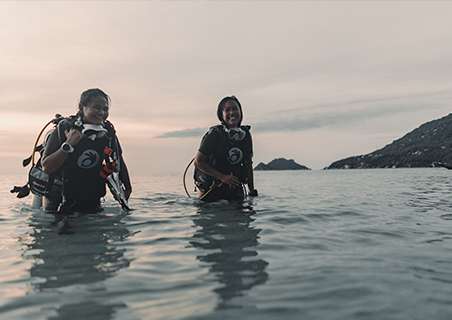 Divemaster Course
6-8 weeks
35,000 THB
The Divemaster course, a 2-month journey of learning and diving, leads to certification. Assist courses, learn from instructors, and immerse in Dive Center operations for fulfilling underwater expertise.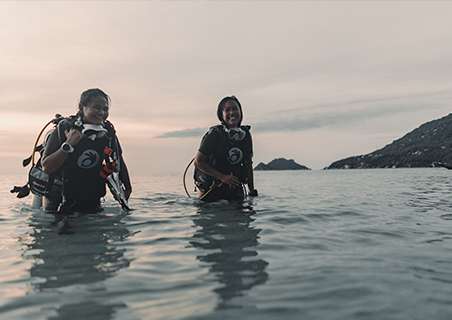 Fun Dives (1 dive)
1 day
1,800 THB
Dive into the excitement of fun dives, venturing into captivating underwater realms. Encounter marine wonders, vibrant reefs, and intriguing wrecks, embracing ocean exploration and memorable experiences.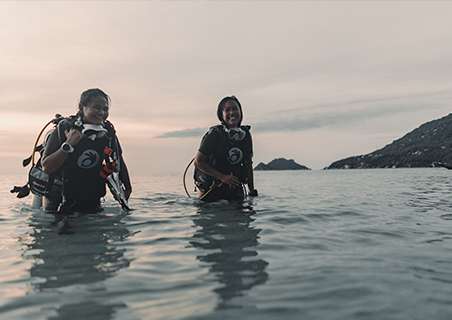 Fun Dives (2 dives)
1 day
2,500 THB
Embark on a double adventure with our exhilarating two-dive Fun Dives package. Immerse yourself in the enchanting underwater world as you explore vibrant coral reefs, discover mysterious wrecks, and encounter a myriad of marine marvels. Unleash your inner explorer and create unforgettable memories with not just one, but two captivating ocean escapades.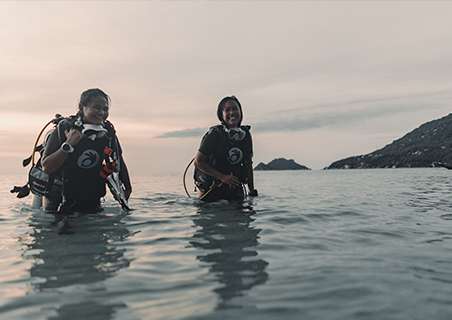 Refresh
1 day
3,200 THB
Renew your dive skills through the Refresh Dive Course. Reacquaint with essential techniques, regain confidence, and ensure safety after a diving hiatus, preparing for rewarding underwater adventures.
National park fee: 600 THB for one day. Extra day: 200 THB
What you'll see diving in Phi Phi
Scuba Diving Courses & Fun Dives
Koh Phi Phi offers a wide range of dive sites for all kinds of divers. You can find easy dives for beginners and also dive sites reserved for experienced divers.
At DPM Diving we have courses and trips for everyone. Drop us a message and we'll find the most suitable diving experience for you.
What can you see diving in Phi Phi?
Marine life and underwater landscape in Phi Phi are absolutely stunning.
Some of the highlights are Sea Turtles, Eagle Rays, Clownfish (Nemo), Soft Coral, stunning rock formations, Sharks, Lionfish, Nurse Sharks, Pufferfish, Angelfish Moray Eels, and lots more!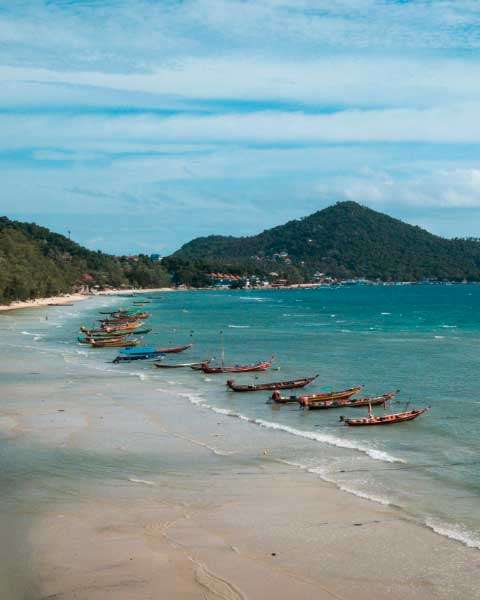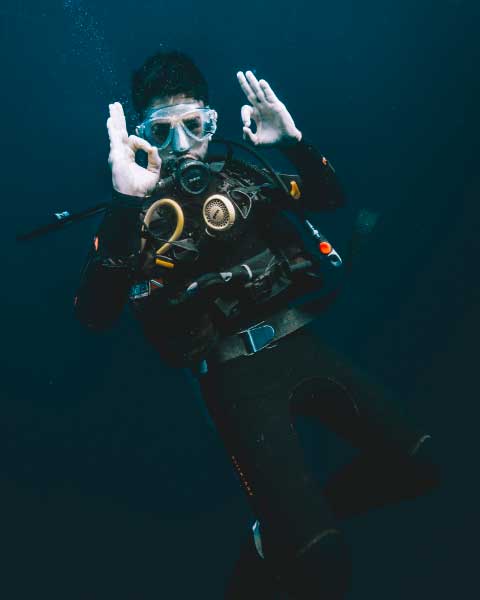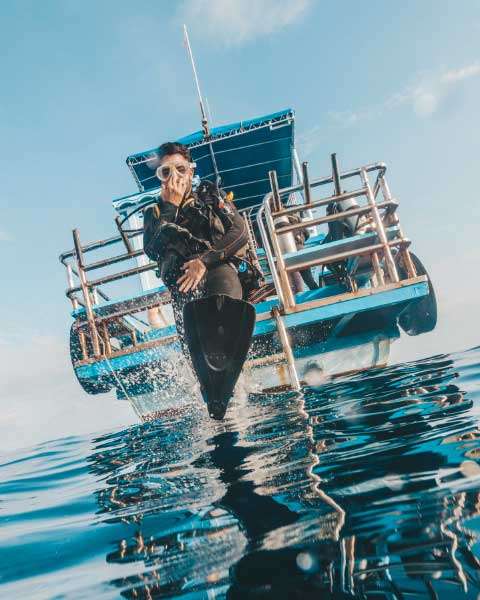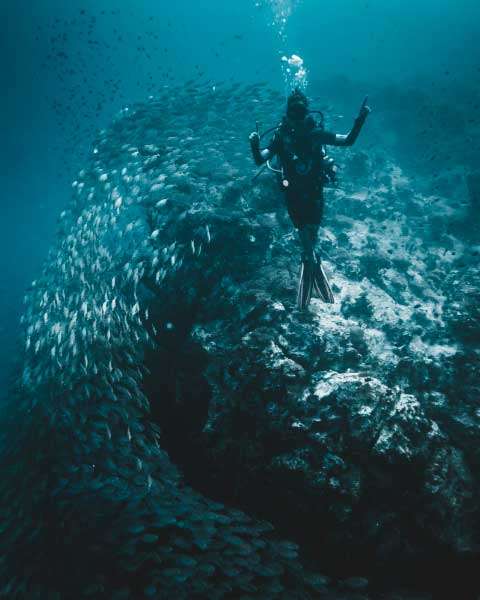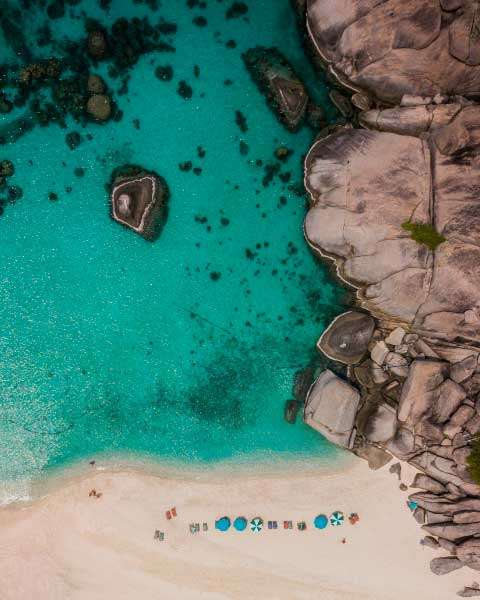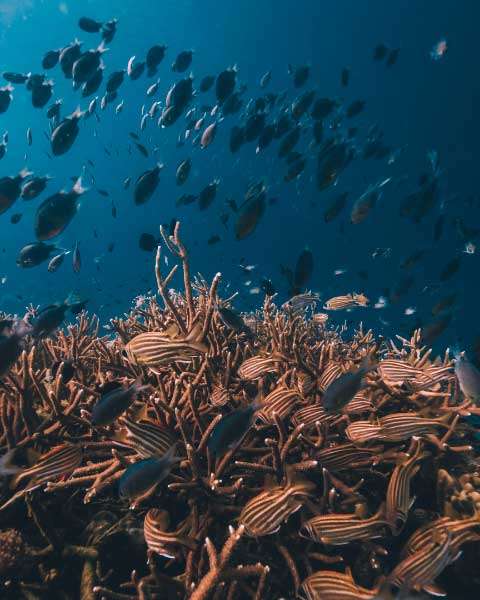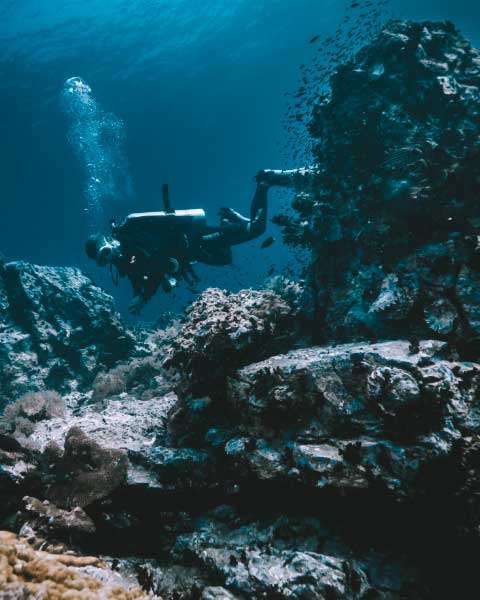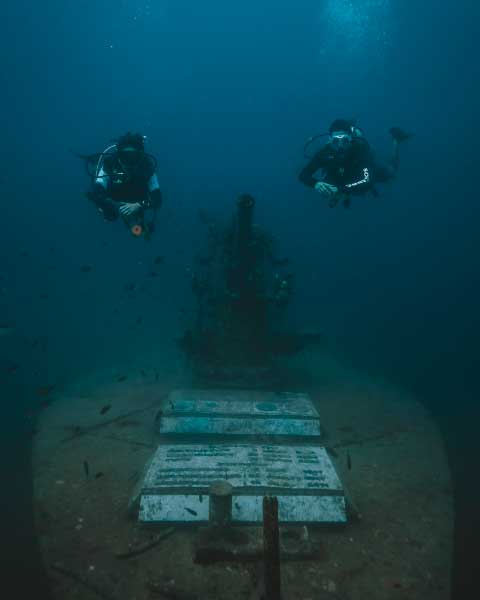 Small Groups
At DPM Diving we work with small groups to make sure you learn at your own pace and enjoy a personalized dive experience.
Trusted Dive Center
With 5 locations around the world, DPM Diving is an internationally recognized and trusted Dive Centre.
More than 14,000 divers have been diving with us, from beginners to advanced and experienced divers and professional levels.
Instructor Trainer Centre
At DPM Diving all our instructors have been trained by our in-house Instructor Trainer to make sure we offer the highest level of safety standards and training quality.
Our Own Big Boat
Have a comfortable experience not only under the water but also during surface intervals and while sailing during our diving trips.
Having our own boat gives us the possibility to choose the dive sites that suit our needs each day, diving without any rush.
And of course, having a toilet on board is always a good idea!
Explore the crystalline waters of Koh Phi Phi while
enjoy its impressive marine life
Fine sandy beaches, crystal-clear waters, stunning natural landscapes, and vibrant nightlife. The Phi Phi Islands are one of the most desirable destinations in Thailand due to a combination of attractions that could easily paint the scene of an authentic paradise....
Explore de wonders of the Phi Phi islands The image we all have of paradise usually aligns on several points: fine sandy beaches, crystal-clear waters, lush nature, and all sorts of activities for fun. All of these come together in the Phi Phi Islands. Located in the...
If you're planning a trip to this stunning archipelago, here are five of the best beaches in Phi Phi that will surely take your breath away.
Frequently asked questions about Koh Phi Phi
What are the best diving spots in Phi Phi?
Located in the Andaman Sea, Koh Phi Phi offers some of the best diving conditions for scuba diving in Thailand. Thanks to being a protected area (National Marine Park), while scuba diving in Phi Phi islands you'll find healthy and colorful reefs and lots of fish of all kinds. Some of the best dive sites in the area include: Kled Kaew Wreck, Shark Point or Maya Corner.
How much is a typical dive on Phi Phi island?
2 fun dives at DPM Diving Phi Phi Phi costs 2500THB, about 67 euros, 70 dollars.
Do I need to know how to swim?
If you're planning to try scuba diving (1-day experience) you don't need to know how to swim. If you want to take the Open Water course and get certified, then you need to pass a swimming test (you need to be able to swim 200 mt)
Is Phi Phi Island good for scuba diving?
Located in the Andaman Sea, Koh Phi Phi offers some of the best diving conditions for scuba diving in Thailand. Thanks to being a protected area (National Marine Park), while scuba diving in Phi Phi islands you'll find healthy and colorful reefs and lots of fish of all kinds. 
Can I scuba dive in Phi Phi all year round?
Yes, we dive all year round in Phi Phi.
What is the best time to go to Phi Phi Island?
The best time to go diving in Phi Phi is between November and May. This is the dry season in Phi Phi and conditions for diving are usually the best.
Are there sharks in Phi Phi island?
Yes, there are sharks around Phi Phi islands, and you can spot some black-tip sharks while snorkeling or scuba diving. The most commonly spotted are Black Tip Reef Sharks and Leopard Sharks.
Do I need to stay overnight to dive in Phi Phi?
Yes, you need to stay at least 1 night to get the most out of your scuba diving experience in Phi Phi.
Where to stay in Phi Phi Island?
If you want to stay in the central area and be close to bars, restaurants, and the pier then you should stay in Tonsai Bay. If you are looking for a more chill and quiet atmosphere then Longbeach is a good spot for you.
How can I get to Phi Phi Island?
You can reach Phi Phi islands from Krabi or Phuket by Ferry or Speedboat. There are several boats running every day starting early morning until early afternoon.
Is Phi Phi a party island?
There's some wild nightlife in one specific area, but there's much more to enjoy in Phi Phi and it's also a very chilled and family-friendly island. 
Is 1 day enough for Phi Phi island?
We recommend staying for at least 2 or 3 nights to be able to explore and really enjoy your stay here. You can spend 1 full day exploring the islands on some of the many tours you'll find, another day for scuba diving, and one more to chill at the beach. Or just go diving every day!
How to get diving license in Phi Phi island?
At DPM Diving Koh Phi Phi we offer all diving certifications, from beginner courses such as Try Scuba Diving or Open Water Diving to the Divemaster Course. We have a highly specialised and experienced team as well as our own boat for the dives.
Team
We are very proud of having one of the best teams a dive center can have. Experienced, passionate, and caring diving instructors that are ready to make your diving in Phi Phi one of the best experiences of your visit to Thailand.
Honey
Scuba Diving Instructor
Meet the amazing Instructor Honey, originally from Bangkok she moved to the islands to do what she loves most: diving and show you the amazing underwater world of Thailand.
Nico
Scuba Diving Instructor
Nick is a Scuba Diving Instructor, and former Fire Fighter. He is a very experienced diver (he's been diving since he was 12) and a great Instructor.
He has issued more than 600 scuba diving certifications to students from every corner of the world.
Francisco
Scuba Diving Instructor
Francisco a.k.a Barba is probably one of the most charismatic dive instructors you'll ever meet.
Francisco has issued over 1,000 (Yes, a thousand!) scuba diving certifications at DPM Diving with SSI International, and other agencies. Always giving his best to make your diving experience unforgettable.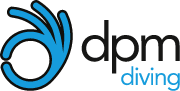 Address:
58/14, Koh Phi Phi, Krabi, 81210, Tailandia
URL: https://dpmdiving.com/locations/dpm-diving-koh-phi-phi/
Prices to dive in Koh Phi Phi
Try Scuba Diving: 3,400 THB
Open Water: 12,900 THB
Advanced: 10,000 THB
Adventure Dives: 2,500 THB
Fun Dive Trips (2 dives): 2,500 THB
Refresh: 3,200 THB
React Right: 4,900 THB
Rescue Diver: 12,600 THB
Divemaster Course: 36,000 THB
National Marine Park Fee
Please have in mind that for any diving activities on Phi Phi island, every diver needs to pay a fee for the right to dive in the National Marine Park.
The fee is 600 THB for the first day and 200 THB for each extra day.
Koh Phi Phi Dive Sites
Koh Phi Phi is a popular diving destination in Thailand and is known for its clear waters and abundance of marine life. Visibility ranges from 10 to 30 meters.
Some of the best dive sites in the area include:
Kled Kaew Wreck
The Kled Keaw Wreck is a dive site to the east of Koh Phi Phi Leh. It's a deep dive site suited for advanced divers. We usually visit this wreck during our Advanced course.
Koh Bida Nok and Bida Nai
These two sites are known for their beautiful coral and abundance of tropical fish, including leopard sharks, octopuses, and moray eels.
Shark Point 
This site is known for its large population of leopard sharks, which can often be seen resting on the sandy bottom.
Maya Corner 
This site is known for its crystal-clear waters and abundance of coral, as well as its large population of tropical fish.
Hin Daeng and Hin Muang
These are known for the large schools of barracudas and trevallies