Scuba Diving Courses & Trips by Ocean Lovers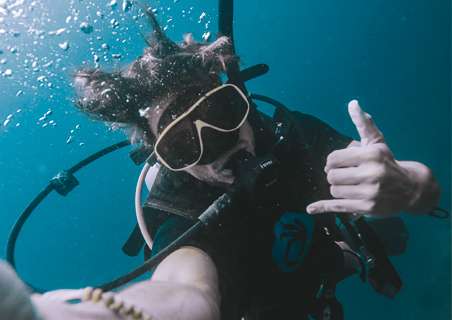 Open water diver
3 days
6,000,000 IDR
The Open Water Course is the Most Popular Diving Course around the World because is the entry-level to discover the wonderful underwater world and becoming a certified diver.
Learn to dive and get your Open Water Certificate in Nusa Penida in only 3 days.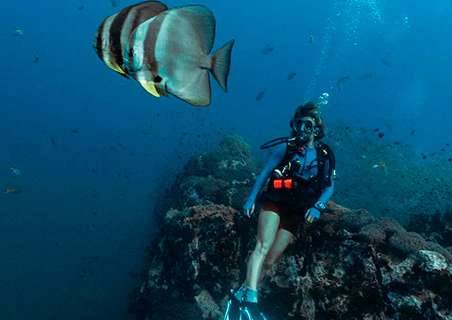 Scuba diver
2 days
4,000,000 IDR
Dive into a new realm with the scuba diver course. Develop underwater expertise, from gear mastery to dive planning, and discover the wonders hidden beneath the surface.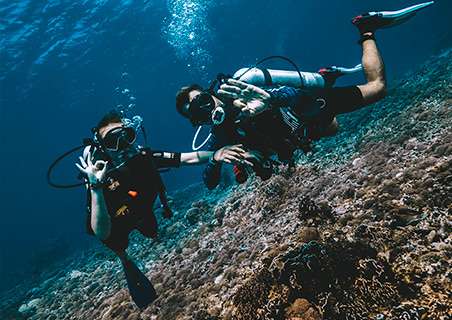 Try Scuba (2 dives)
1 day
2,000,000 IDR
Dive into the world of underwater exploration with our "Try Scuba" course, featuring two immersive dives. Discover the thrill of breathing underwater as you embark on a journey to explore captivating marine landscapes.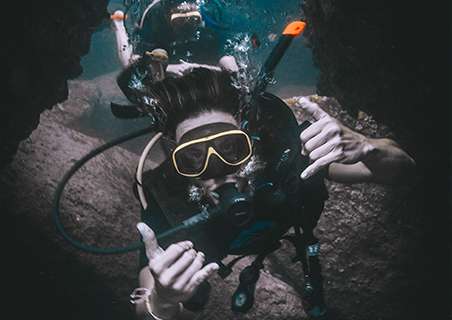 Advanced course
2 days
5,000,000 IDR
If you already know you want to go further in your dive training, the advanced adventurer course is for you.
We will dive down to 30 meters depth, practice drift diving, buoyancy training, and more in a total of 5 dives.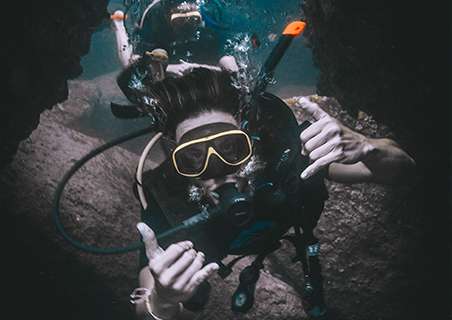 React Right
1 day
1,600,000 IDR
SSI's React Right is a swift emergency training. Gain skills to adeptly handle emergencies, whether diving-related or not, in just a day. Learn proper responses for safety and efficacy.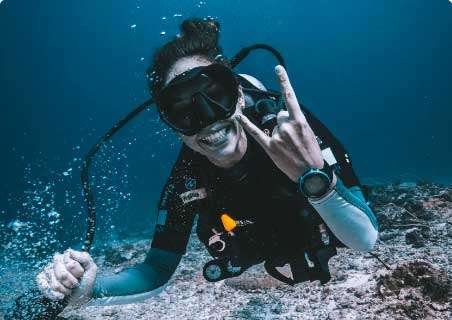 Nitrox Specialty
2 days
1,750,000 IDR
Unlock the SSI Enriched Air Nitrox Specialty. Dive into planning and diving with enriched air blends up to 40% oxygen, expanding dive times, safety, and convenience for travel and liveaboards.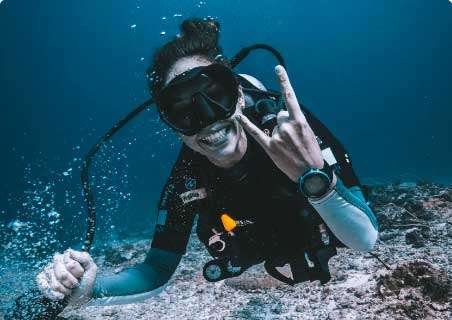 Rescue
2 days
6,000,000 IDR
SSI Diver Stress & Rescue course equips divers to recognize and manage stress, prevent accidents, and respond effectively to emergencies. Build confidence, safety, and rescue skills for enhanced underwater experiences.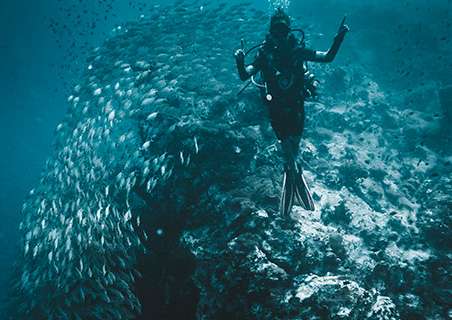 Deep Specialty
2 days
3,100,000 IDR
Delve into the SSI Deep Diving Specialty. Equip yourself to explore depths beyond 18 meters safely. Master techniques and extend your recreational diving reach to 40 meters.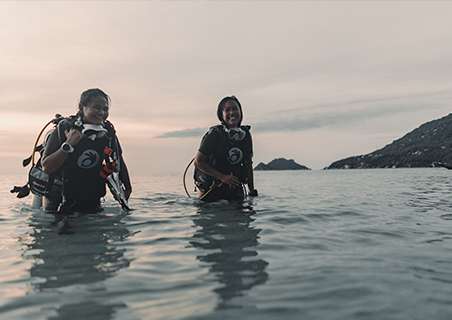 6-8 weeks
18,000,000 IDR
Embark on the transformative Divemaster course for two months of diving, learning, and certification. Assist courses, learn from seasoned instructors, and engage in Dive Center operations for comprehensive underwater mastery.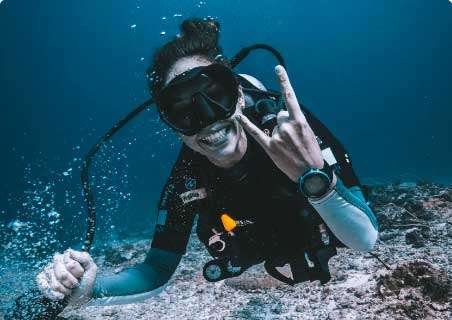 Fun Dives (2 dives)
1 day
1,500,000 IDR
Indulge in the joy of fun dives, venturing into captivating underwater worlds. Encounter marine marvels, vibrant reefs, and intriguing wrecks, fostering ocean exploration and cherished memories.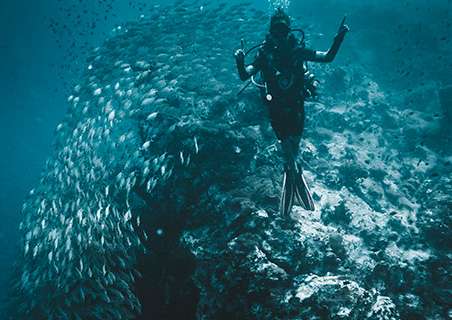 Refresh
1 day
1,800,000 IDR
Reignite your diving expertise with the Refresh Dive Course. Rediscover crucial techniques, rebuild confidence, and ensure safety for an enjoyable return to underwater exploration.
Excellent
5.0
★
★
★
★
★
Based on 1180 reviews from
review us on
Shankar S.
★★★★★
The guys here are amazing. They take great care of you, irrespective of how much experience you have. Highly recommend if you're in Indonesia, Spain or Thailand!
Joshua K.
★★★★★
Super helpful and friendly staff. They helped us with scooter rental, ferry tickets to Lombok, restaurant tips. The diving was well organized and super easy to book. dpm offer great dive boats, super helpful and friendly guides/instructors, good equipment with 6mm wetsuits (amazing). Location is perfect. 100 m from the pier and the ocean. They provided water to refill your bottles, tea and coffee at all times. While diving there was fresh fruit and cookies. After the dives there was enough possibilities to shower with shampoo and towels provided. Loved the vibe
Christian L.
★★★★★
Guten Tag. Ich kann euch allen die Tauchschule sehr ans Herz legen. Das Geld ist es absolut wert. Die Tauchlehrer, vor allem Julien, sind unfassbar freundlich und man fühlt sich beim Tauchen sehr, sehr sicher. Es war erst mein zehnter und elfter Tauchgang. Aber mit Julien an der Seite habe ich mich sehr sicher gefühlt. Kuss alter an dieser Stelle. Die Tauchschule an sich ist super organisiert. Das Equipment ist super in Schuss und die Tauchspots atemberaubend.
Jakob B.
★★★★★
Vielen Dank an das DPM Team! Gebucht hatte ich 2 Tauchgänge am Morgen.Manta point & crystal bay.Die Kommunikation per WhatsApp war super schnell & unkompliziert.Am Tag vor dem Tauchgang kam ich spontan vorbei & regelte den restlichen Papierkram.Wir waren in einer 2er Gruppe (exklusive Guide) unser Guide war Julien.Er hat einen fantastischen Job gemachtIch war jetzt viel in Indonesien tauchen (Raja Ampat, Bunaken, Lembeh) und Julien hat seinen Job als Guide am besten gemacht!Er hat einem ein gutes Gefühl von Sicherheit gegeben. Ein gutes Briefing gemacht & immer gut kommuniziert.10/10 klare Empfehlung ❤️🤿
Agnes E.
★★★★★
We did 4 amazing dives here and saw a lot of cool stuff. Our diving master was very nice and we felt very safe diving with him. All together a great experience!
Inaki B.
★★★★★
The place if you want to do scuba diving in Nusa Penida, great team, many thanks for the experience, in special to our instructor Arbi, very professional ! 👌
Basty W.
★★★★★
Mi primer buceo en Indonesia, con la mejor instructora Guillermina ✨Fui afortunada porque no solo también es argentina sino que tuve el honor de estar solo con ella y darme toda la seguridad.Agradecida por todo, solo es el principio de mi aventura acuática! GRACIAS 🙏🏻
paula T.
★★★★★
Muchísimas gracias al equipo de DPM Nusa Penida! Como siempre súper profesionales. Agradecida de hacer el Open Water con ustedes! Gracias Aida, Arbi y Juan!😘
javier chaves M.
★★★★★
Just completed basic diver course and it has been such an amazing experience. Highly recommend to book your course in this diver school, everyone is super friendly and helpful. Many thanks to Guillermina, my dive instructor for her way to go through the course.
What you'll see diving in Penida
Looking for a top diving destination? Welcome to Nusa Penida!
This wild and beautiful island has a unique mix of Balinese and Muslim culture, incredible cliffs and beaches, and some of the best dive sites in the world.
Check out our Top 5 places to visit in Nusa Penida.
For bookings, questions about our diving activities or anything regarding your trip to Penida, you can always reach us on WhatsApp. We'll be happy to assist you.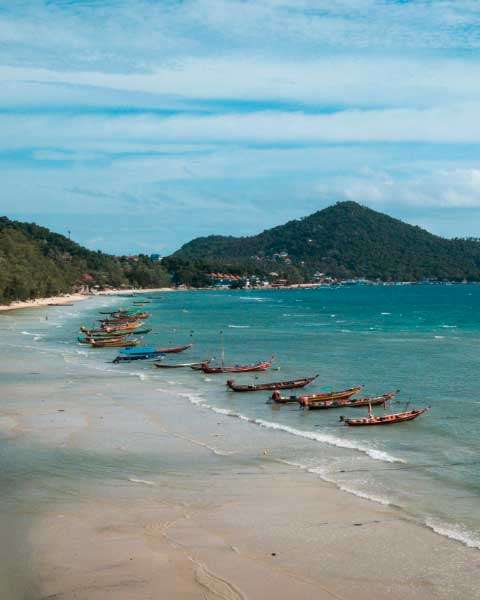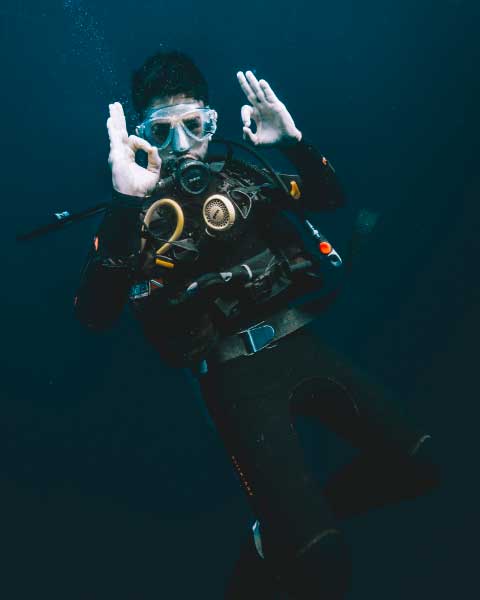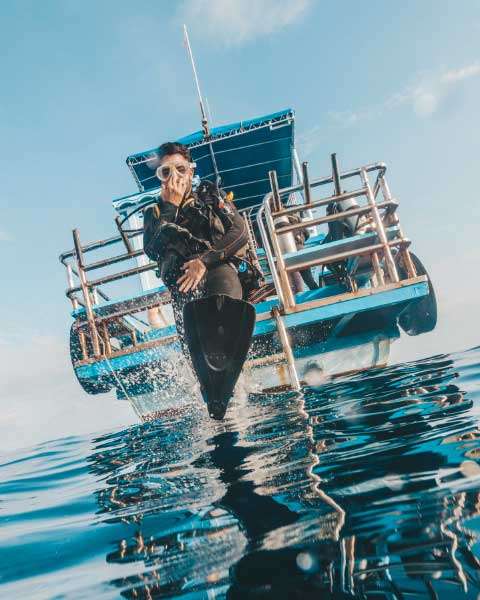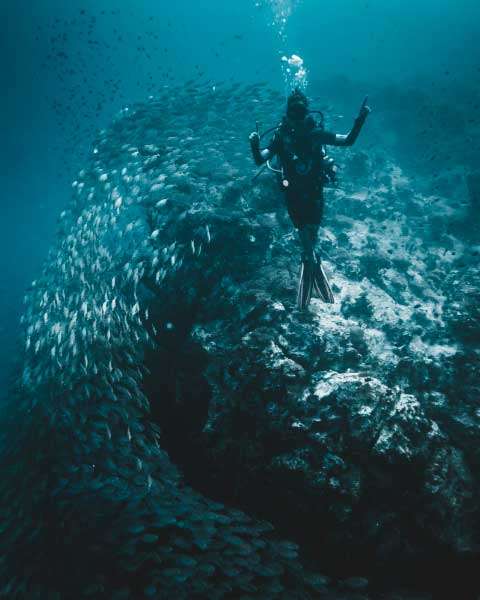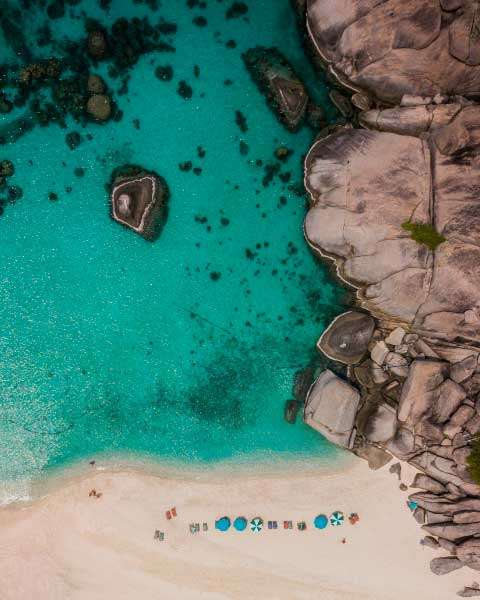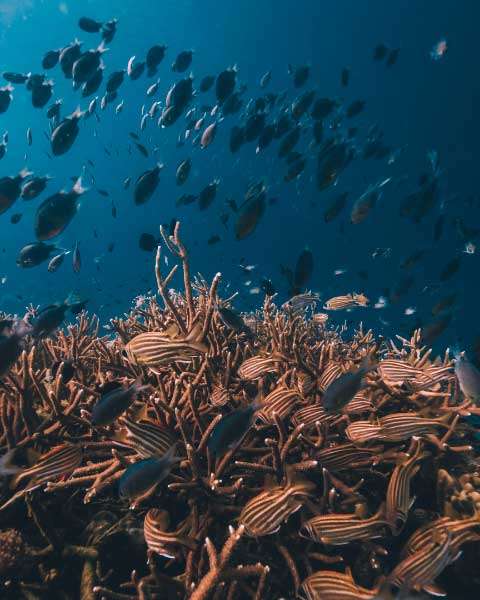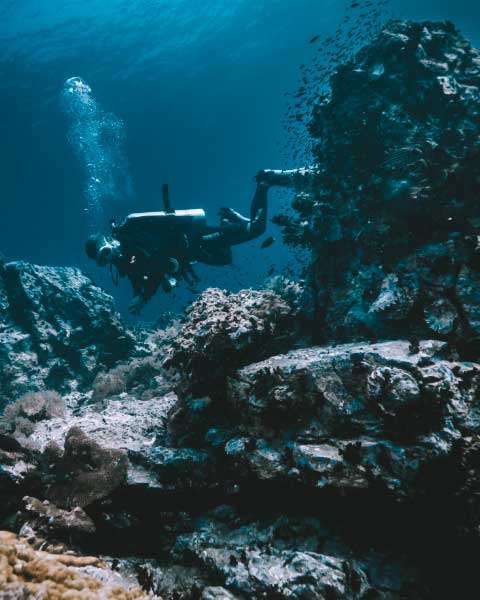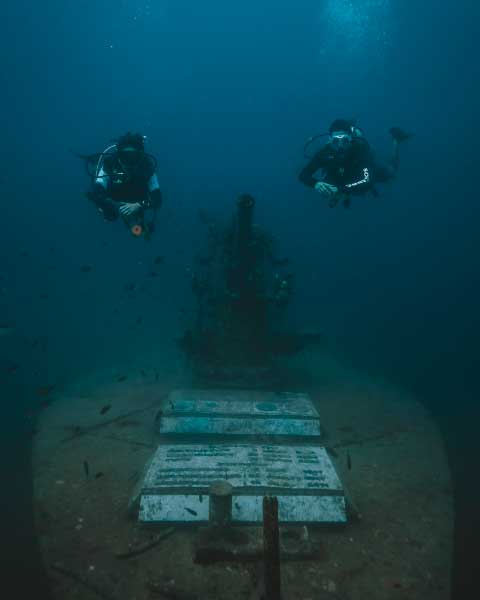 At DPM Diving Nusa Penida you can choose from a wide range of Scuba Diving Courses, from total beginner to professional levels. But we do more than only courses, we have daily trips to the best dive sites around Penida Island, for certified divers of every level.
We have been teaching and diving in Nusa Penida for years, we know every dive site and we'll take you to the best spots according to your experience to make sure you get the most out of your diving experience.
So drop us a message, we'll be happy to answer all your questions and organize your next diving adventure in Nusa Penida Island.
If you are new to Scuba Diving and are unsure where to start, check out our ultimate diving guide for beginners.
Diving with Mantas
Diving with Mantas in Nusa Penida is possible all year around. Don't miss out this opportinuty, there are a very few places in the world where you can see this amazing animals.
It's one of our favorite destinations in the world. And not just because we have one of the five DPM Diving schools there, but because of everything it has to offer in terms of ambiance, cuisine, and activities. Nusa Penida is a must! Travel guide to nusa penida...
Frequently asked questions about Nusa Penida
Where to dive in Indonesia?
Indonesia is a 5-star diving destination, with plenty of options for beginners and professional divers. At DPM Diving we have schools on Nusa Penida, considered one of the best places in Asia for diving, and on Gili Trawangan.
How much does scuba diving cost in Indonesia average?
Indonesia is an economical place to dive, whether you want to start with the Open Water course or for more advanced courses or independent dives. Also, the cost of living on Nusa Penida is very low, so you can save on accommodation and food.
How to dive on Nusa Penida?
At DPM Diving Nusa Penida you can choose from a wide variety of dive courses, from beginner to professional level.
We also have daily trips to the best dive sites on the island, for certified divers of all levels.
We have been teaching and diving on Nusa Penida for years, and know all the dive sites.
We will take you to the best spots, according to your experience, so you can enjoy your dives to the fullest.
Can manta rays be spotted while diving in Nusa Penida?
Yes, in fact, it is common to be able to dive with mantas all year round, in places like Manta Point.
Where to dive on Nusa Penida?
One of the biggest attractions of diving in Nusa Penida is the possibility to dive with manta rays. Fortunately, this is possible all year round. Conditions are good in all months, although the calmest months are from November to May.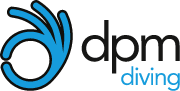 Address:
Nusa Penida, Jl. Raya Toya Pakeh - Ped, Kp. Toyapakeh, Kec. Nusa Penida, Kabupaten Klungkung, Bali, 80771, Indonesia
URL: https://dpmdiving.com/locations/dpm-diving-nusa-penida/