Koh Tao has about 20 beaches, and each of them has its charm. In this post, we show you the 10 most outstanding ones.
Which is the best beach in Koh Tao? Well, that will depend on the personal preference of each one, what we can tell you is that you can't miss any of them!
---
THE BEST

KOH TAO BEACHES
SAIREE BEACH
Sairee is the longest of the beaches of Koh Tao, with almost 2 km long. It is also the busiest and most centric, where much of the nightlife takes place, with many bars, restaurants, and massage shops.
For this reason, most tourists choose the Sairee Beach area to stay. From hotels and large resorts to bungalows and hostels, the accommodation offer is very wide.
It has a barrier reef 30 meters from the shore, so you can go snorkeling. You can also rent paddleboards or kayaks to paddle through its waters.
Sairee is also the meeting point to enjoy the sunset. Not only because it is one of the best places to watch the incredible sunsets of Koh Tao, but also because of its atmosphere.
If you want to enjoy it with few people around you, the north end of Sairee Beach is the quietest.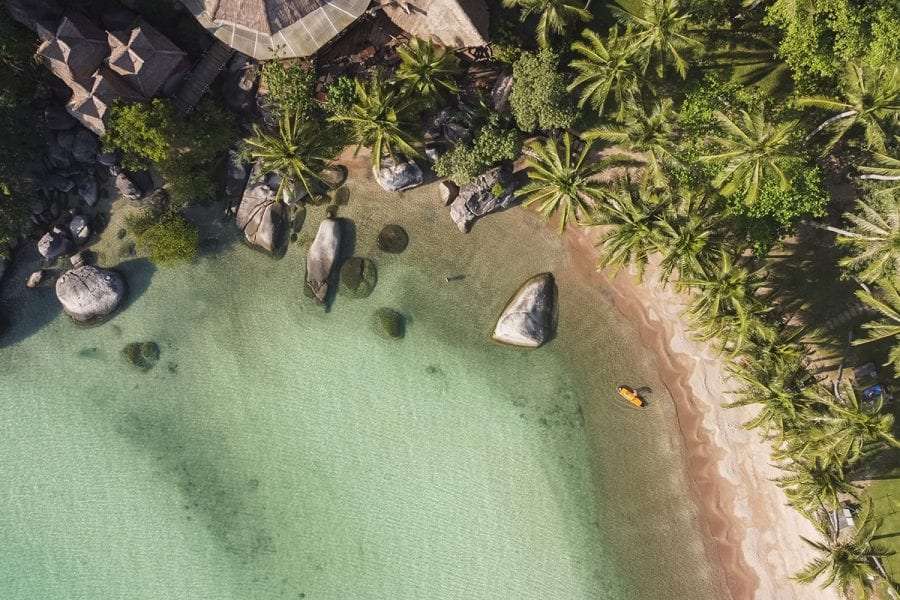 ---
Shark Bay owes its name to the fact that it is very common to find small blacktip sharks in its waters. This bay is located south of the island and is usually uncrowded.
Fine sand, palm trees, and crystal clear waters characterize Shark Bay making it one of the best beaches in Koh Tao.
The entrance to the beach is private, as you must cross a large resort to get to it, and sometimes you will be charged to pass.
Shark Bay is one of the best beaches for snorkeling in Koh Tao, and besides sharks, it is very common to find turtles.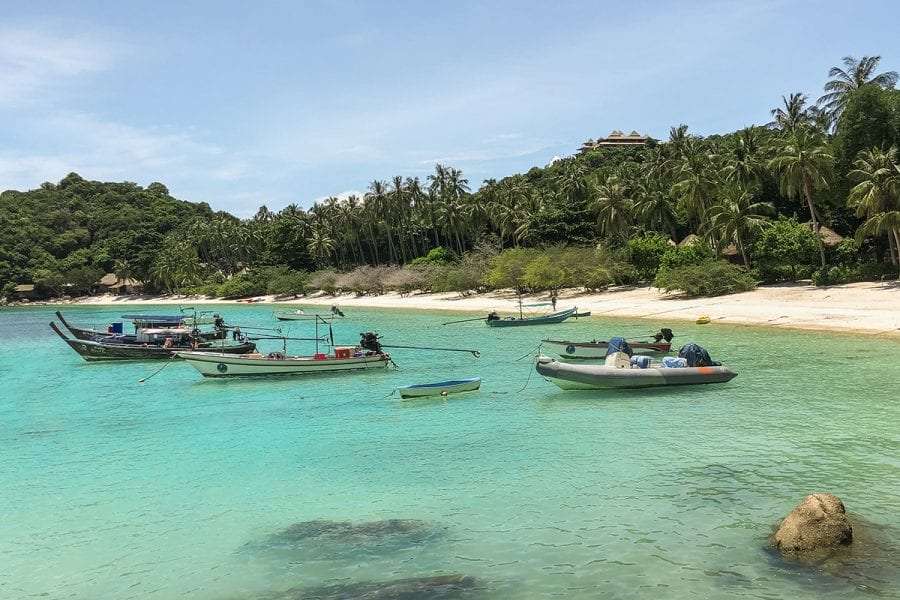 ---
CHALOK BAY
Chalok bay is one of the longest beaches of Koh Tao, located in the extreme south of the island, in one of the 3 main areas of Koh Tao.
It is usually a very quiet beach, with few people and many bars and restaurants on the beach.
Chalok Bay is not the best beach for swimming or snorkeling, as the tide is usually very low and you can walk hundreds of meters into the water and still have the water up to your knees.
The most beautiful thing about Chalok is the scenery and the views at sunset because although you can not see the sunset directly, at sundown time the sky offers a wonderful spectacle of colors.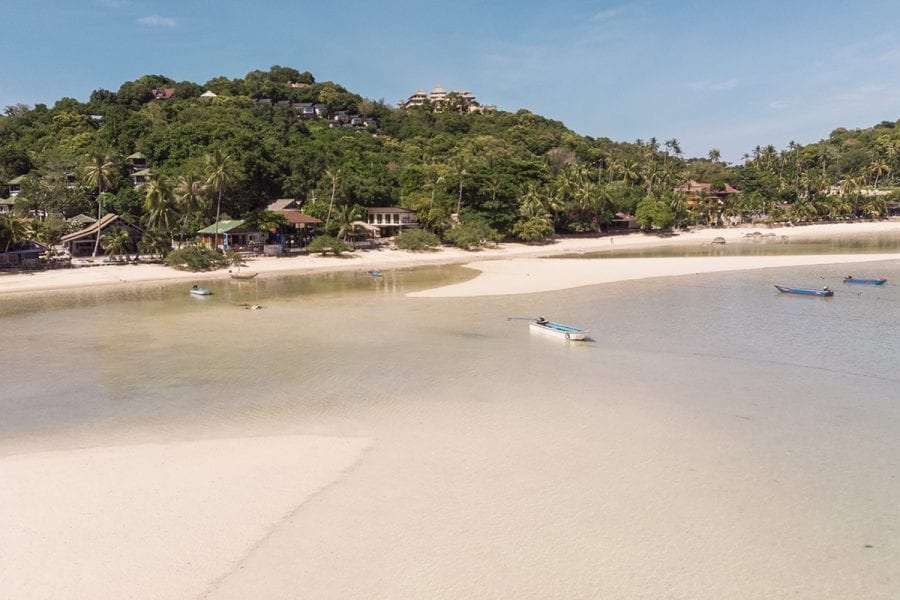 ---
SAI NUAN BEACH
Sai Nuan Beach is one of our favorite beaches on Koh Tao, also known as Banana Rock.
Actually, Sai Nuan is not one beach, but two beaches! Two small and very quiet bays with a great sunset view, a super relaxed atmosphere, and very nice snorkeling.
Arriving at Sai Nuan you enter the first bay, which is very small and has 1 local restaurant and a bar (Banana Rock Bar). Following a path to the right, you can reach the second bay, which is usually quieter, less crowded, and more beautiful.
Snorkeling in Sai Nuan you may encounter turtles, and it is also very common to find pufferfish.
Access to Sai Nuan beach used to be by a difficult and somewhat dangerous road for novice drivers, but now the road is paved and in perfect condition, so it is very easy to reach.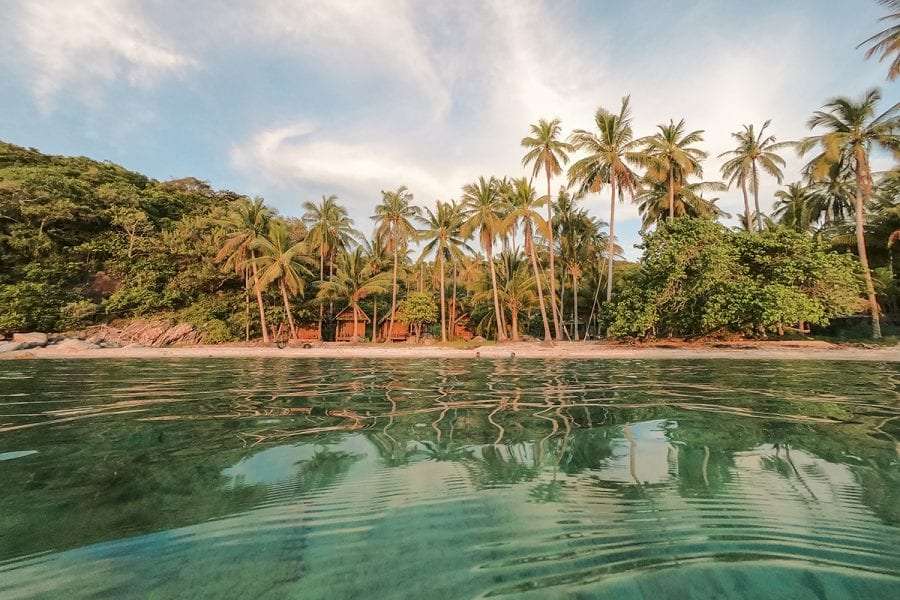 ---
MANGO BAY
Mango is probably the quietest of Koh Tao's beaches. If you are looking for a haven without people, this is your place.
You can get there by hiring a longtail excursion, or by hiking through the jungle. It is possibly one of the hardest hikes of Koh Tao and at the same time one of the most beautiful.
Mango Bay is very good for snorkeling and swimming, and also a great beach to spend the day just chilling in the sand
It's also a very nice spot for scuba diving.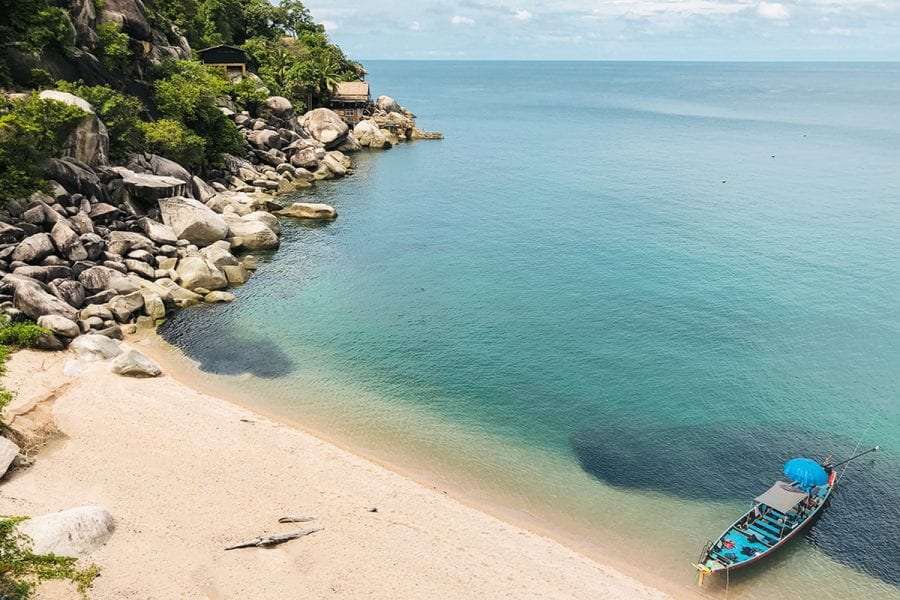 ---
FREEDOM BEACH
Freedom Beach It is one of the most recommended and popular beaches of Koh Tao. This small beach is located at the southern end of Chalok Bay.
There's an entrance fee of 100 bahts that includes:
A bottle of cold water (too bad it is plastic).
Access to the beach, with umbrellas and hammocks (there is also a bar where you can buy drinks and food at a reasonable price).
Half an hour of kayaking
Access to the John Suwan Viewpoint: from this viewpoint, you have one of the best views of Koh Tao. Access to the viewpoint is easy, but there are stretches of dirt that are a little slippery, and other sections where you have to climb a little on some rock. Even so, you can easily reach it even in flip-flops.
Freedom Beach is one of the most beautiful beaches of Koh Tao, it's great for kayaking, snorkeling, and spending a chill day on the beach.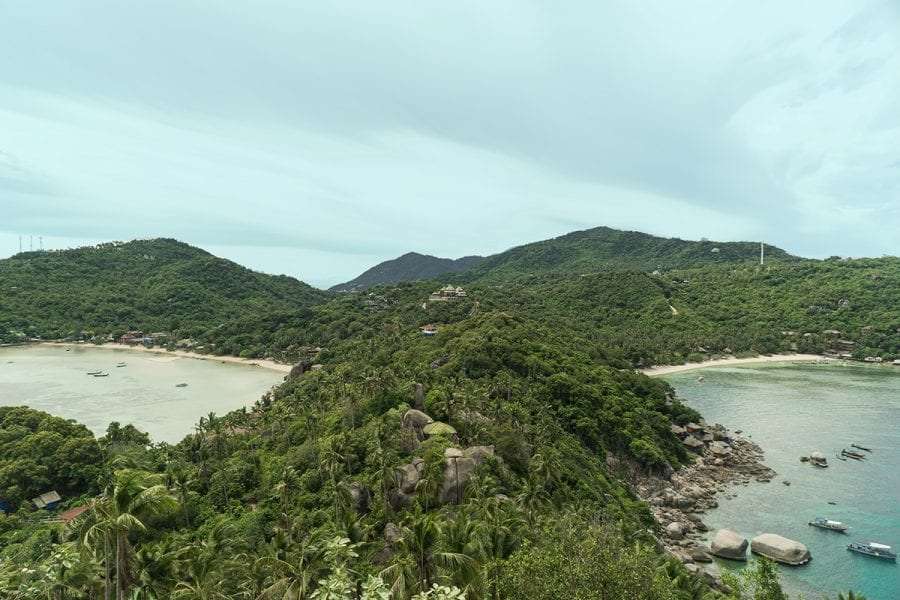 ---
AOW LEUK
Aow Leuk is definitely one of the best beaches on Koh Tao. It is a bay of white sand, perfect for snorkeling on either side.
Snorkeling in Aow Leuk is very common to find turtles, blacktip sharks, and countless species of fish of all sizes and colors. It is one of the deepest beaches in Koh Tao, so it is also ideal for swimming or just cooling off with a dip in the sea.
To enter the beach you have to pay an entrance fee of 100 baht, with which you get a drink (water or a can of soda) and you have access to umbrellas and deck chairs.
The way to get to Aow Leuk is easy and you can get there by motorcycle in about 10 or 15 minutes from almost anywhere on the island.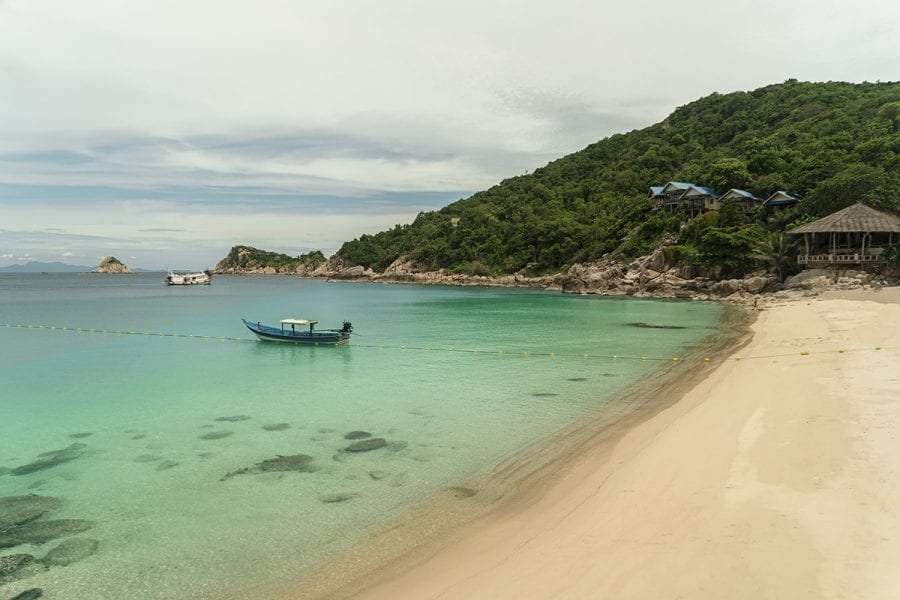 ---
TANOTE BAY
Tanote is one of the most popular beaches of Koh Tao and is usually crowded in the high season. The beach is long and wide and the hotels and restaurants are a bit far from the sea, so it has enough space for everyone!
It is surrounded by mountains and rocks, and even has a huge rock in the sea, which people climb (thanks to a rope they have installed) to jump into the water. If you decide to climb the rock to jump, be very careful and avoid times of low tide, as the rocks and corals are close to the surface.
The snorkeling at Tanote Bay is one of the best in Koh Tao. There are very nice corals and you can see all kinds of marine life, including turtles, reef sharks, rays and pufferfish.
It is also very nice for scuba diving and is one of our favorite spots for night dives and shore dives. Night dives are part of our Advanced Adventurer Diving Course.
The road to Tanote Bay is very nice, with beautiful landscapes. It has some steep, winding sections, so drive with caution.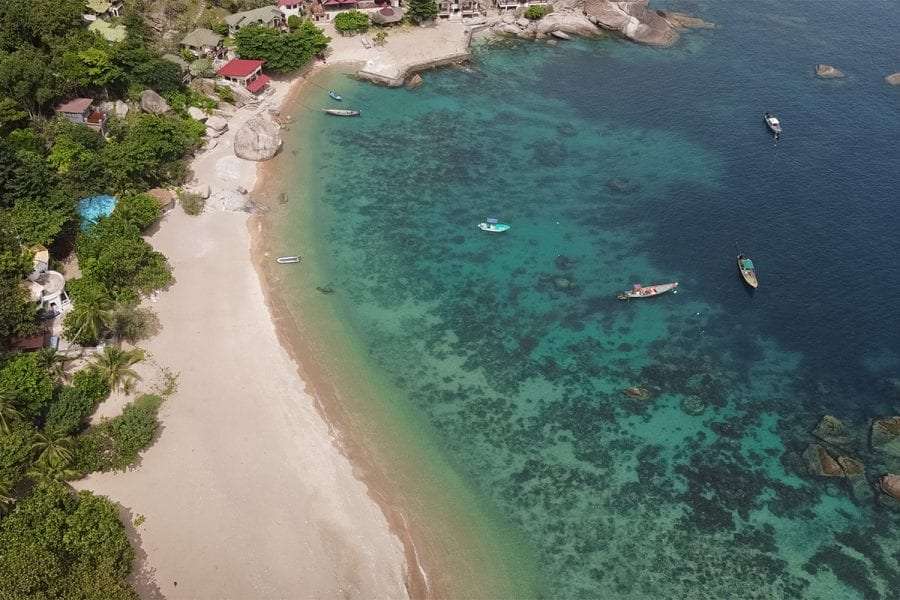 ---
SAI DAENG
Sai Daeng is another great beach for snorkeling in Koh Tao. The road to get there is a pleasure, with incredible views and landscapes.
To access the beach you have to go through a resort, but unlike other resort beaches, the entrance is free.
The left side of the beach is the best for snorkeling, and it is very common to find blacktip sharks and turtles.
The beach is not very wide but it is very nice and has many small trees that provide shade to shelter from the sun for a while.
Before completing the descent through the resort, you will find a parking lot with a viewpoint from which you can appreciate a fascinating view.
Although Sai Daeng is one of the farthest beaches and many people discard its visit, we recommend you to add it to your list of things to do in Koh Tao as it is in our opinion one of the most beautiful beaches in Koh Tao.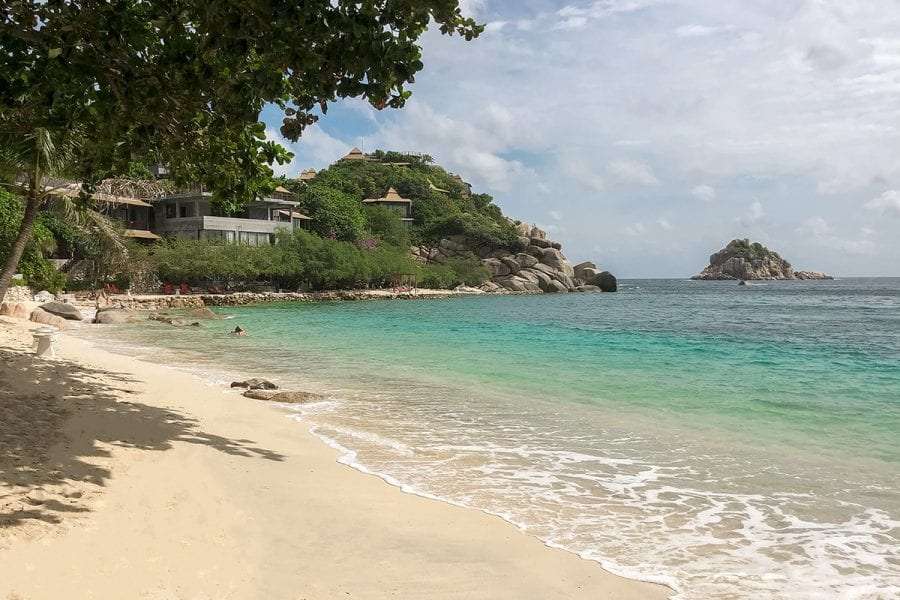 ---
HIN WONG BAY
Hin Wong bay is one of the beaches you can't miss during your visit to Koh Tao. This small beach is little visited by tourists and is for us one of the most beautiful.
Hin Wong Bay is one of the best beaches in Koh Tao to see sharks, you can find them snorkeling or even sitting on the shore of the beach, as it is very common for them to gather in groups of 6 or 7 small sharks at 1 meter from the shore.
It is also possible to find turtles and explore the underwater caves on the left side of the bay.
The entrance fee to Hin Wong is 20 baht, which you will be asked to pay when you park your motorcycle or go through the parking lot. Pay them without hesitation, you will not regret it!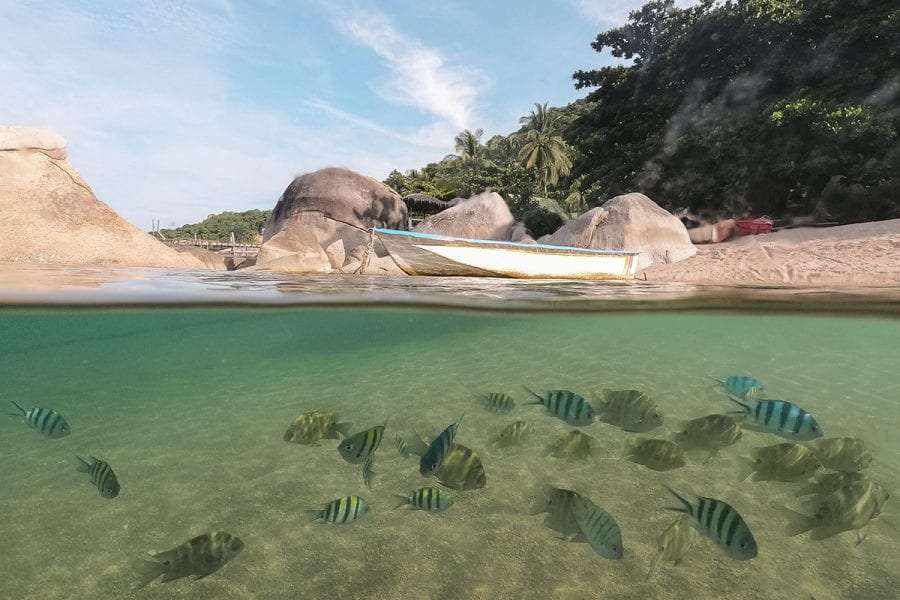 ---
Now that you have a better idea of what to expect, what is the first beach you visit when you arrive at Koh Tao?
Tell us in the comment section!