Can only one be chosen? Difficult, very difficult! The Phi Phi Islands are an unmissable destination on the west coast of Thailand, in the Andaman Sea, and only 45 kilometers from Phuket. At DPM Diving, we are fortunate to have one of our schools on this fascinating island, near the ferry port, so we know what we're talking about. Paradise beaches and unparalleled underwater beauty. We offer diving courses for beginners and advanced divers, with our own boat and a team of top-level instructors.
The Best Beaches in Phi Phi: Sandy Havens!
When it comes to dreamy beach destinations, Phi Phi Islands in Thailand stands out as a true tropical paradise. With its crystal-clear turquoise waters, pristine white sands, and lush greenery, Phi Phi Islands attract thousands of visitors every year. If you're planning a trip to this stunning archipelago, here are five of the best beaches in Phi Phi that will surely take your breath away.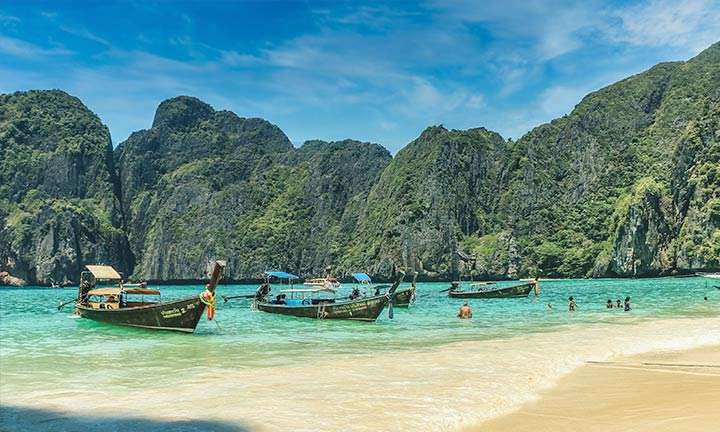 Long Beach
Located on the northeastern coast of Phi Phi Don Island, Long Beach lives up to its name by stretching for nearly 800 meters. This idyllic stretch of sand is perfect for leisurely walks, sunbathing, and swimming. With its calm and shallow waters, it's an excellent spot for families and snorkeling enthusiasts. Take in the panoramic views of the Andaman Sea as you relax under the shade of palm trees swaying gently in the sea breeze.
Maya Bay
Made famous by the movie "The Beach" starring Leonardo DiCaprio, Maya Bay is undoubtedly one of the most iconic beaches in Phi Phi. Enclosed by towering limestone cliffs, this secluded bay is a sight to behold. The crystal-clear waters and vibrant coral reefs make it a haven for snorkelers and scuba divers. Due to its popularity, Maya Bay can get crowded during the day, so it's best to visit early in the morning or late in the afternoon to fully appreciate its natural beauty
Loh Dalum Bay
If you're looking for a lively beach atmosphere with a vibrant nightlife, Loh Dalum Bay is the place to be. Situated on the southern tip of Phi Phi Don Island, this beach offers a perfect mix of relaxation and entertainment. During the day, you can soak up the sun on the soft sand or indulge in water sports like kayaking and paddleboarding. As the sun sets, the beach comes alive with beach bars, fire shows, and music, creating an energetic and unforgettable atmosphere.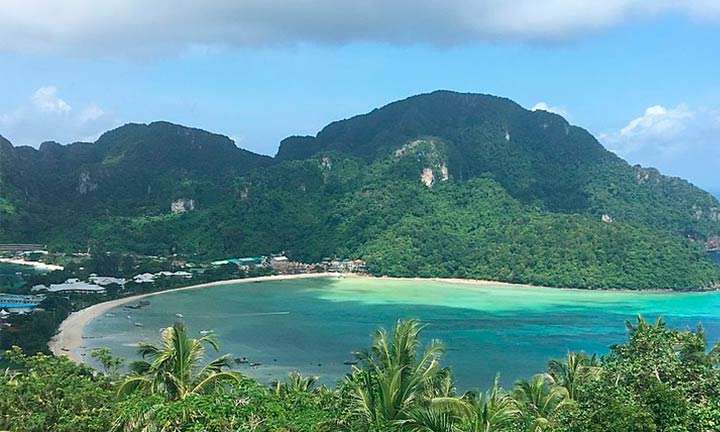 Monkey Beach
Nature lovers and wildlife enthusiasts will be delighted by Monkey Beach, located on the southwestern side of Phi Phi Don Island. As the name suggests, this beach is home to a playful troop of monkeys who often come down from the surrounding cliffs to greet visitors. It's a unique experience to watch these curious creatures up close, but it's important to remember not to feed or disturb them. Apart from the monkeys, Monkey Beach offers fantastic snorkeling opportunities and breathtaking views of the island's rugged coastline.
Bamboo Island
Just a short boat ride away from Phi Phi Don Island, Bamboo Island is a true hidden gem. With its pristine white sands, swaying palm trees, and crystal-clear waters, this small paradise feels like a slice of heaven on earth. The island is uninhabited, making it an ideal destination for those seeking tranquility and seclusion. Snorkelers will be mesmerized by the colorful coral reefs teeming with marine life just off the shore. Pack a picnic, soak up the sun, and let the worries of the world drift away on Bamboo Island.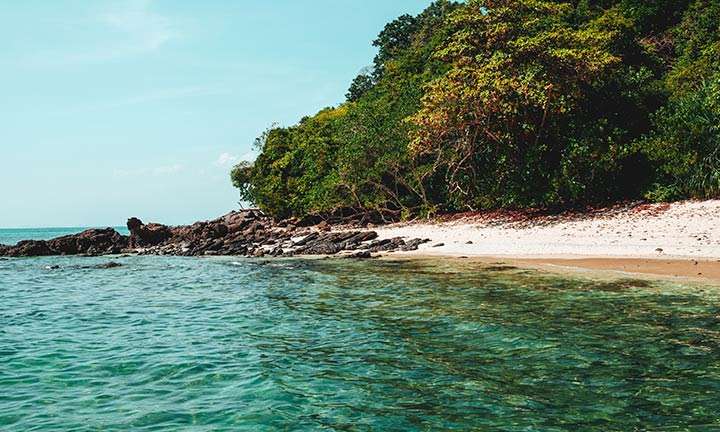 Phi Phi's Beaches: A Paradise for Diving and Snorkeling
Phi Phi Islands are not just about sunbathing and swimming; they are also a paradise for diving and snorkeling enthusiasts. With a diverse underwater ecosystem and thriving marine life, these beaches offer an underwater wonderland waiting to be explored. Book with DPM Diving one of our courses or fun dives and dive into a world of vibrant coral reefs, tropical fish, and even the chance to swim alongside majestic sea turtles.
Whether you're seeking relaxation, adventure, or a combination of both, Phi Phi Islands have it all. From the long stretches of sand to the hidden coves and vibrant underwater world, these beaches will leave you with memories to last a lifetime. So pack your swimsuit, sunscreen, and a sense of adventure.
Cover photo of Humphrey Muleba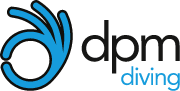 We are a team of Ocean Lovers with a Mission: to Educate, Train and Inspire Divers, creating not only explorers but also Ambassadors of the Ocean. At DPM Diving you can get Diving Courses from total Beginner to Professional Levels. Join Us!