We all have the typical image of a paradisiacal beach in mind; turquoise and crystal-clear waters, fine white sand, abundant marine life, palm trees framing a clear and perfect view… Interestingly, this image closely matches the reality of Nusa Penida, a lesser-known Indonesian island than its neighbor Bali, where an increasingly large number of tourists can sometimes disrupt the perfect picture. For those seeking postcard-perfect, tranquil beaches with great opportunities for diving, Nusa Penida is a magnificent choice. And here, in this article, we present a sample. We give you the list of the top 10 beaches in Nusa Penida.
The 10 Best Beaches in Nusa Penida (Indonesia)
Kelingking Beach
Known as the "T-Rex Beach" due to its rock formation resembling a dinosaur, Kelingking Beach offers breathtaking panoramic views from the top of the cliffs. Descending to the beach requires a bit of adventure, but the reward is a golden sandy beach and crystal-clear waters. A must-visit!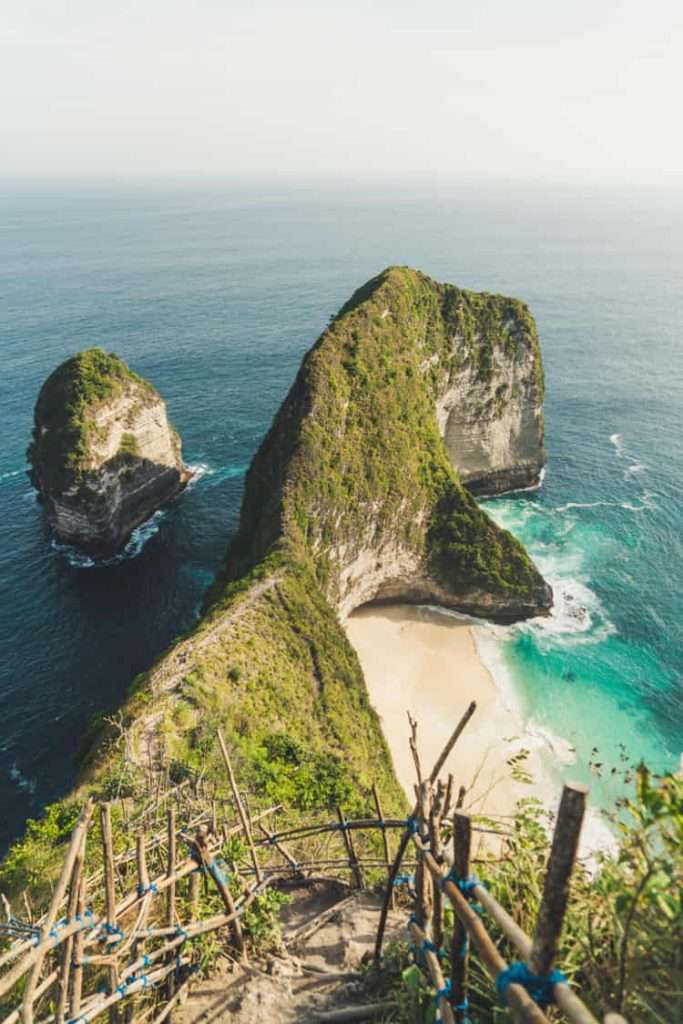 Crystal Bay
This beach is named for the crystal-clear clarity of its waters. It's a popular spot for snorkeling and diving, with rich marine life including manta rays and tropical fish. It's also a perfect place to enjoy beautiful sunsets and fill your Instagram with unique postcards.
Broken Beach
A unique natural formation where seawater makes its way through an arch in the coastline. This place offers stunning views and is an excellent spot for taking photos and exploring coastal geology. Undoubtedly, a different beach for the more adventurous.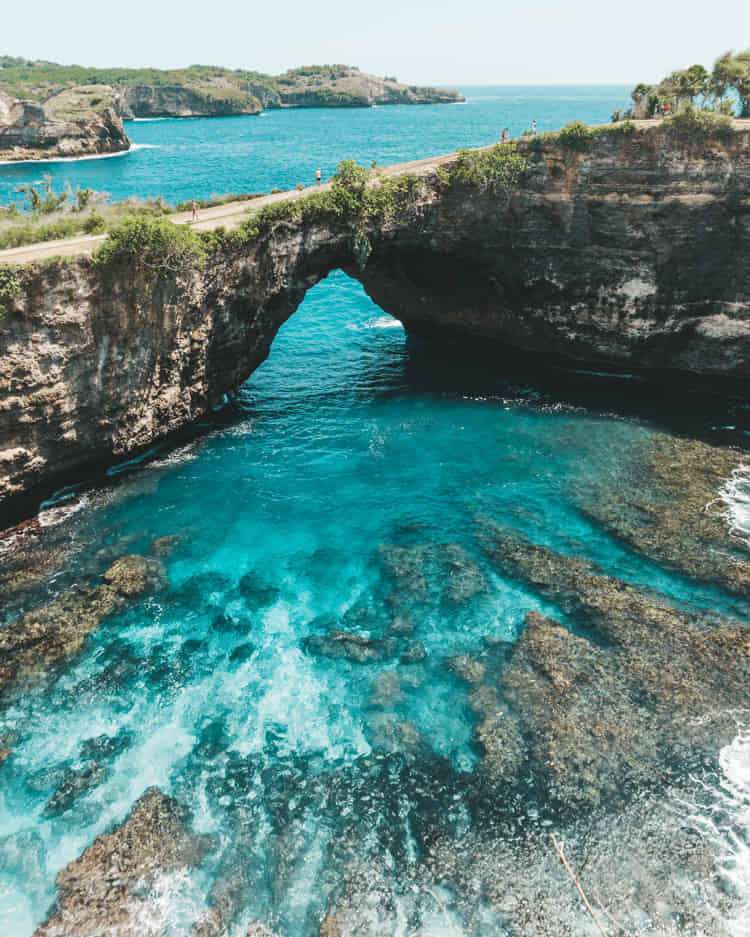 Atuh Beach
Atuh Beach is known for its turquoise waters and white sandy beach. To reach here, you have to descend a steep path, but the beauty of this beach is unforgettable. It's a perfect place to relax and soak up the sun. And yes, it will make others envy you.
Diamond Beach
This beach is famous for its white sand and a natural diamond-shaped pool right on the shore, making you feel like a lucky castaway. The steep staircase descending to the beach offers spectacular views of the surroundings.
Suwehan Beach
Suwehan Beach is a secluded and peaceful beach with golden sand and blue waters. It's an ideal place to escape the crowds and enjoy the peace and natural beauty of Nusa Penida.
Gamat Bay
Gamat Bay is a paradise for diving enthusiasts. It offers a wide variety of marine life, including turtles, rays, and tropical fish. The waters here are crystal clear and perfect for exploring the underwater world.
Tembeling Beach and Forest
This beach is known for its natural pool in the middle of a lush tropical forest. It's a perfect place for swimming and enjoying the surrounding nature. The forest surrounding the beach is a wildlife sanctuary and offers hiking opportunities.
Nyang Nyang Beach
Nyang Nyang is a quiet and remote beach with golden sand and crystal-clear waters. It's an ideal place to relax, sunbathe, and enjoy the serenity.
Angel's Billabong
This natural formation is like a saltwater pool amidst the rocks. It's a popular spot for swimming and taking photos due to its unique beauty.
Each of these beaches in Nusa Penida has its own charm and distinctive beauty, making this island a must-visit destination for beach lovers, nature enthusiasts… and diving! Remember that we have a diving school in Nusa Penida where you can explore the vibrant underwater world of the island.