In this guide, you'll find first-hand and updated information about Koh Tao Island.
We have been living in this little paradise for years and explored every corner of the island, under the water and up to the hills!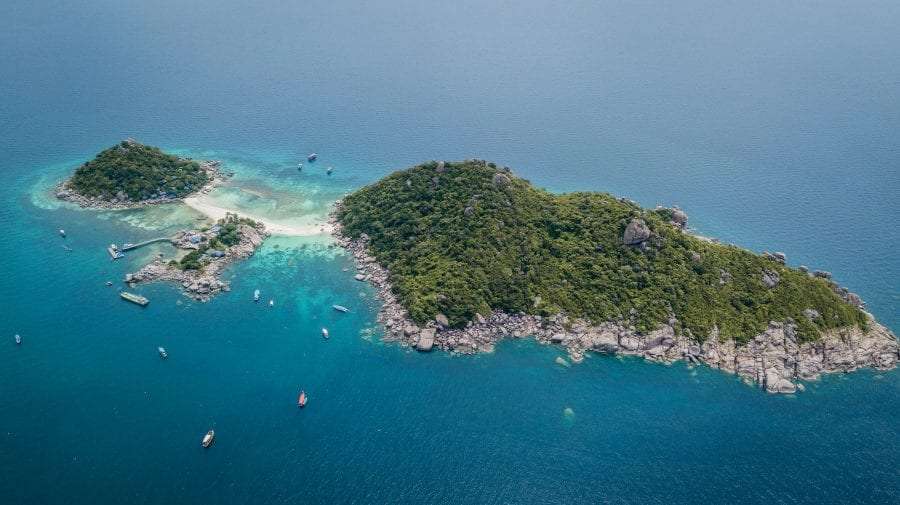 THINGS TO DO IN KOH TAO
There's no secret that the main thing to do in Koh Tao is to take a Scuba Diving Course. Because of the easy conditions all year round and colorful marine life Koh Tao Island is a world famous destination to get your scuba diving certification.
But Koh Tao has much more to enjoy, from hiking to viewpoints to kayaking or participate in a beach clean-up.
Here's a list of our top 8 things to do in Koh Tao Island.
Taking a Scuba Diving Course
The easy conditions to learn scuba diving makes Koh Tao Island one of the best places in the world to get initiated in this beautiful sport.
Good visibility, no strong currents, and colorful marine life are the reasons for taking a scuba diving course in Koh Tao.
This little Island is also known for being one of the cheapest places in the world to get your Scuba Diving Certification, with the popular Open Water Course.
In only 3 days you will learn all the basics of Scuba Diving, earning an international certificate that will allow you to dive until 18 meters depth, anywhere in the world.
Drop us a message to get information or advise about Scuba Diving Courses in Koh Tao.
Snorkeling around Koh Tao
There are plenty of beautiful bays to explore by snorkeling in Koh Tao. Our top picks are Tanote Bay, Aow Leuk, and Hin Won Bay.
Tanote Bay is a long bay with a big rock in the middle. Snorkeling around the rock you can find all kinds of fish, some sea turtles, and rays.
Aow Leuk Bay is also great for snorkeling on both sides of the bay. It's pretty common to see blacktip sharks and you could also spot some sea turtles.
Hin Won Bay is a small bay on the northeast side of the island and is the best place to spot blacktip sharks. You can find many of them swimming a few meters from the shore.
All these bays are easy to reach by bike, just be sure that yours have good brakes, as there are some very steep parts on the road.
Another great way to explore Koh Tao bays is by hiring a longtail or taxi boat to take you around the island and doing snorkeling stops all around. This is an easy way to reach bays that are not that easy to reach by bike, such as Mango Bay or Lighthouse.
Visit Koh Nang Yuan Island
One of the most famous spots in Koh Tao is Koh Nang Yuan island. Despite its name, Koh Nang Yuan is not one island, is a small cluster of three little islands connected by two white-sand strips and surrounded by beautiful coral and colorful marine life.
There's a stunning viewpoint where you can get an amazing view of this paradise. You can also do some snorkeling around or just chill on the sand.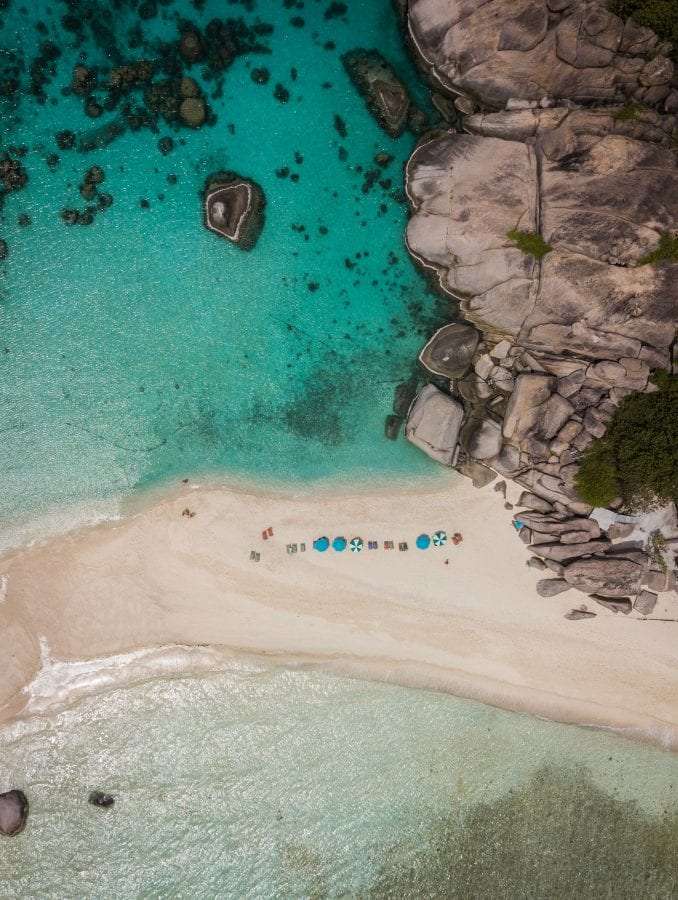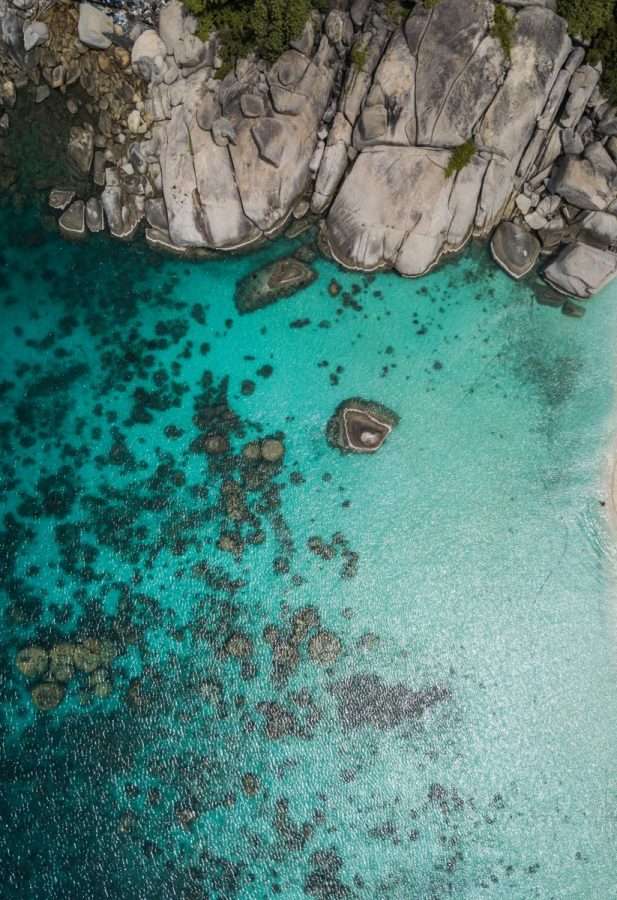 To get to Koh Nang Yuan you need to hire a taxi boat from Sairee Beach. We recommend visiting it early in the morning to avoid big crowds.
There's an entrance fee of 200 THB, and you are not allowed to enter food or plastic bottles.
Kayaking around Koh Tao Island
Exploring Koh Tao by Kayak is definitely a must. You can rent a kayak on almost every beach, and discover secret spots that you can't reach by walking or swimming.
The best time for kayaking is early in the morning or after 5 pm, when the sun starts going down, and relax and enjoy the sunset from your kayak.
If you go in the sunset time, try to go back soon before it gets dark. Safety first!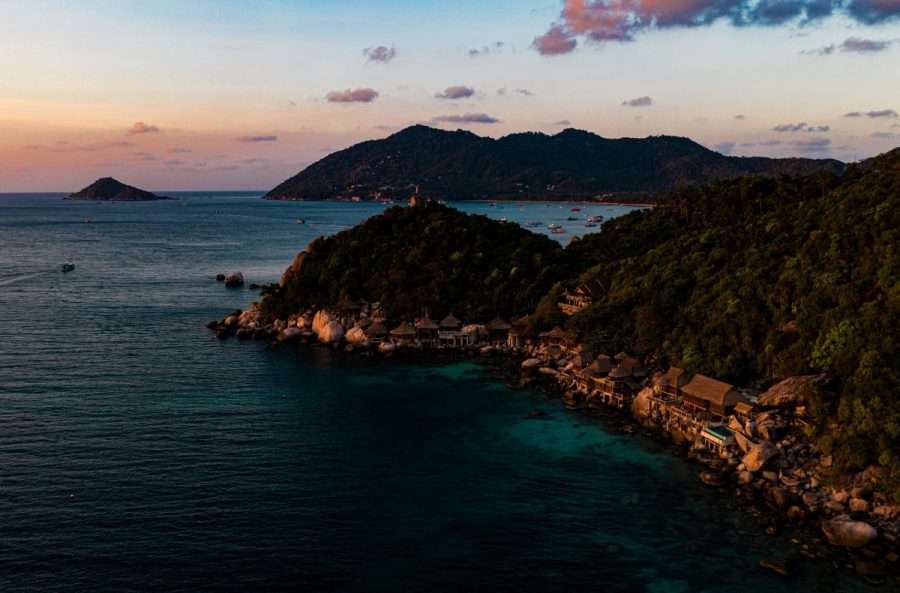 Sunset in Sairee or Sai Nuan Beach
Koh Tao sunsets are stunning and you can enjoy it from Sairee Beach while chilling on the sand and listening to music from some of the many beach clubs along the beach.
You can also rent a paddleboard and enjoy the sunset from the sea, a fun and unique experience that we highly recommend.
For those who prefer a quieter and more relaxed place to enjoy the sundown, Sai Nuan Beach is a great option.
Koh Tao Viewpoints
Are you a viewpoint lover? Then you'll love Koh Tao Island. There are many viewpoints to choose, or you can just visit all of them!
Some of our favorites are "John Suwan Viewpoint", "Love Koh Tao", and the Instagram famous "Koh Nang Yuan".
John Suwan Viewpoint
Located in the southern area, offers a perfect panoramic view of Chalok and Shark Bay. After a 10 min hike, you will enjoy one of the most stunning views of Koh Tao.
The access road to the entrance of the area is easy, but be prepared for a medium to high-intensity hike, don't forget to bring water!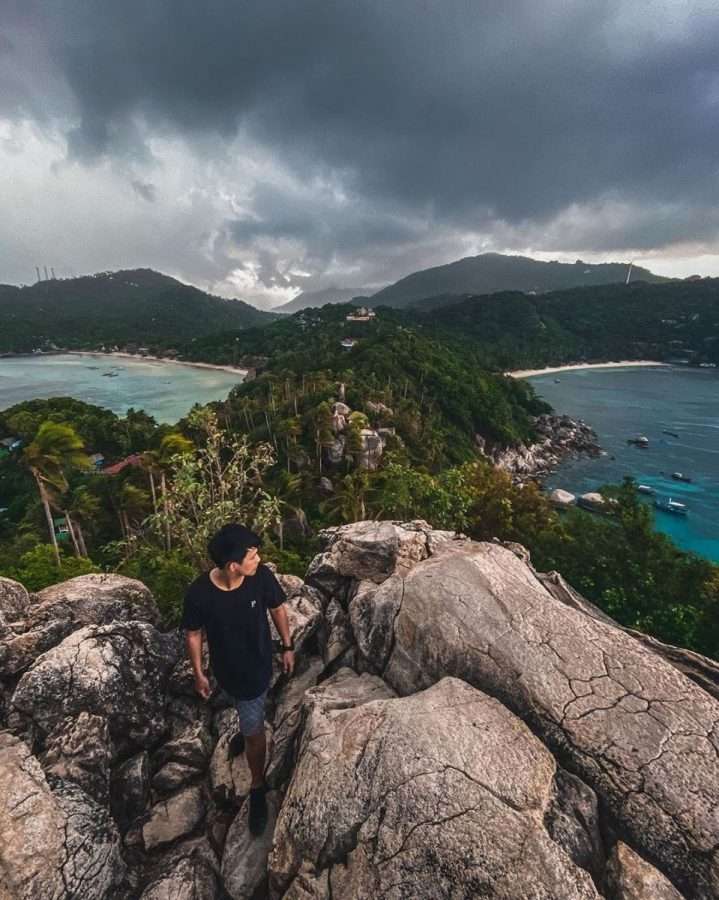 Love Koh Tao
This high viewpoint is located right in the center of Koh Tao Island. Its breathtaking panoramic view of the east side of Koh Tao Island makes it an ideal place to relax with friends.
The road to get to this viewpoint is quite steep, so make sure your bike has good brakes and ride safely.
Koh Nang Yuan Viewpoint
To get to this beautiful place on Koh Nang Yuan, you must first arrive on the island (typically by cab boat) and pay the entrance fee of 200 THB.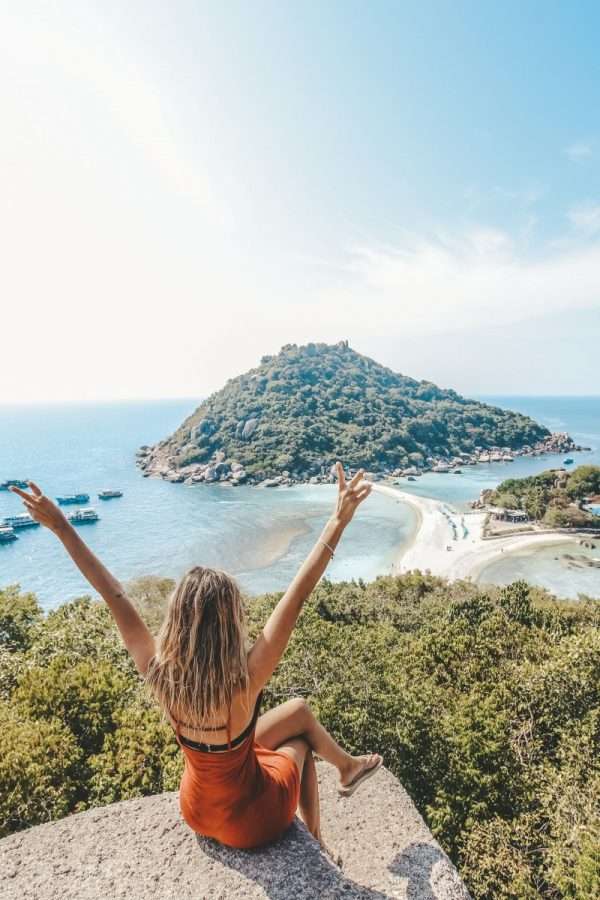 After a walk of about 10 to 15 minutes, you can enjoy a wonderful view of the 3 islets joined by the sandbank and the wonderful waters that surround it.
Taking a Freediving Course
Freediving on Koh Tao can be practiced all year round, thanks to the easy conditions of the sea and the multiple sites available around the island.
There are no strong currents on Koh Tao, which is great for learning freediving.
But these are not the only reasons.
While learning to free dive in Koh Tao you can enjoy its beautiful coral reefs, rich and colorful marine life, and warm waters all year round.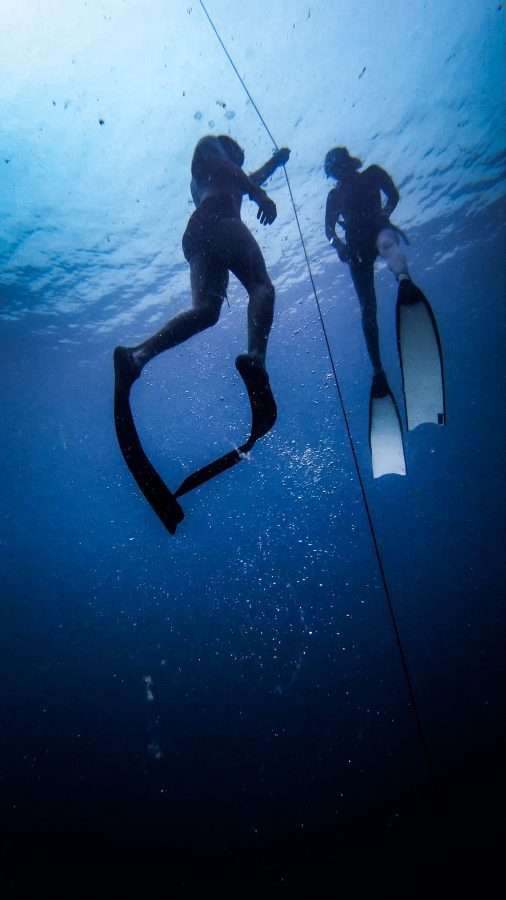 Join a Beach Clean Up
If you have never participated in a beach clean-up before, don't miss the opportunity to do it in Koh Tao.
Every week, the DPM Diving team, together with friends, students, and local children, perform a beach cleanup with the aim of raising awareness about the importance of caring for our oceans.
This is a fun activity that will change the way you understand our consumption habits and the need for a radical change in them.
The beach clean up usually start at 9 am and it takes around 2 hours.
Joining is free.
BEACHES OF KOH TAO ISLAND
There are around 20 beaches in Koh Tao, all beautiful and worthy of visiting. Here is a list of our Top 10 Beaches in Koh Tao:
Sairee Beach
Shark Bay
Chalok Bay
Sai Nuan
Mango Bay
Freedom Beach
Aow Leuk
Tanote Bay
Sae Daeng
Hin Won Bay
Check out this post for more details on each of the beaches.
WHERE TO STAY IN KOH TAO ISLAND
First, let's talk about the3 main areas of the island. Koh Tao is divided into 3 main areas: Sairee, Mae Haad, and Chalok.
Sairee Beach
Sairee is the busiest and most commercial area, so is the place to stay if you like to be close to bars and nightclubs.
Mae Haad
Mae Haad is at the center of the island, is where the pier is located, so is a central area. There are many restaurants and shops.
Mae Haad is busy during the day but very quiet at night. It's a practical option if you want to be close to the pier, booking offices and banks
Chalok
If you look for the quietest place to stay, you should look for the Chalok area, by far the quietest zone in Koh Tao. You can still find some restaurants and cafes, but you will need to rent a bike to move around the island.
HOW TO GET TO KOH TAO ISLAND
The only way to get to Koh Tao Island is by boat. Which boat? It will depend on where you are coming from!
There are boats coming to Toh Tao Island, from Chumphon or Surat Thani, and also from Koh Phangan and Koh Samui.
How to get to Koh Tao from Bangkok
There are a few different options to get to Koh Tao from Bangkok:
1- Night Bus + Ferry
There's a Night Bus departing from Khao San Road area at 10 pm. It will get you to Chumphon pier, and from there you get a ferry to Koh Tao Island (arriving around 8:45 in the morning). All the trip is with the same company (called Lomprayah) so you don't need to worry about transfers or anything else.
This is the easiest way to get to Koh Tao Island from Bangkok. The bus is quite comfortable and the boat is good too (get yourself some warm clothes, because they love air con!)
You can check prices and availability on the Lomprayah company website.
2- Night Train + Ferry
You can get the night train from Bangkok train station (Hua Lamphong) and connect with an early morning ferry in Chumphon. The ferry company running from Chumphon to Koh Tao is Lomprayah.
Follow this link to get more details about the train service in Thailand.
3- Flight + Ferry
To get to Koh Tao by flight + ferry there are 3 options. You can fly from Bangkok to Koh Samui or you can do it to Chumphon or Surat Thani.
Both flights take around 1 hour, and you need to connect with the boat to Koh Tao. When you book your boat ticket, you can choose an option with transfer from the airport.
Flying from Bangkok to Chumphon or Surat Thani is way cheaper than flying to Koh Samui, so we recommend taking one of those options if you are on a budget, but the trip from Samui to Koh Tao is shorter than coming from Surat Thani or Chumphon, so if you prioritize time and easiness, then go for the Koh Samui flight.
You can check flight availability and prices on the AirAsia website and book your ferry ticket with Lomprayah.