Paradisiacal beaches, an irresistible gastronomy, a rich cultural heritage, endless activities for the most adventurous, and corners to explore alone, as a couple, with family or friends. ThatThat Tenerife is one of the most popular island destinations in Europe is no secret. The charms of this volcanic island are so varied that they are an irresistible lure for all types of travelers. n this article, we talk about the fantastic conditions of the island for scuba diving reveal the 5 best places to dive in Tenerife. We know a thing or two about it at DPM Diving Tenerife, as we never leave the water!
Tenerife, your diving destination!
A paradise beneath the surface closer than you think. Tenerife has anabundant marine life and ideal conditions for diving. The southern part of the island, sheltered from the northern winds, offers calm waters for most of the year and a stable temperature ranging from 19°C to 25°C. The visibility is also high, reaching up to 30 meters. And the best part is, there are plenty of amazing diving spots where you can discover different species such as turtles, angel and hammerhead sharks, barracudas, octopuses… in an environment characterized by volcanic rock formations, that create cliffs, caves, and incredible shapes.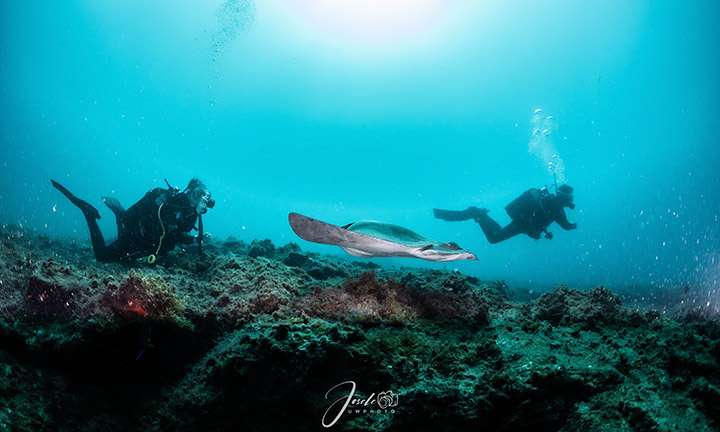 The best diving spots in Tenerife.
If you're thinking of diving in Tenerife, these spots are a must! And at DPM Diving, we can take you to each of them.
Montaña Amarilla Marine Reserve.
Just 15 minutes away from Adeje, this place combines a white sandy bottom with rocky formations and tunnels ideal for feeling like a true underwater explorer. Its marine life is spectacular, and it is suitable for all types of divers.
Los Gigantes Diving Spot.
If the exterior, with its stunning cliffs of the same name, already offers breathtaking views, below the surface, the panorama is not much different. Here, you can frequently spot manta rays or triggerfish, and even catch a glimpse of a dolphin or two, with a seabed that ranges from extensive sandy areas to authentic volcanic sculptures.
Puertito de Armeñime.
Located very close to our school in Playa de Fañabé, Adeje, this diving spot allows you to dive with green sea turtles, seahorses, nudibranchs, and rays, among many other species.
Cueva de los Cerebros (Cave of the Brains).
It is a spacious cave with numerous branches and corridors where you can observe slipper lobsters, lobsters, crabs, moray eels… However, this diving spot is more suitable for experienced divers.
Abades
In the southeast of Tenerife, the charming village of Abades has two magnificent diving spots with beach entry where you can spot endangered angel sharks, turtles, rays, and nudibranchs. The dives reach a maximum depth of 18 to 20 meters, with perfect conditions for all types of divers.
Marine fauna in Tenerife: What will you find?
The marine ecosystem of Tenerife is characterized by a rich biodiversity, with a multitude of marine species that live permanently on the island thanks to the abundance of food in its sandy and volcanic bottoms. Crustaceans, cephalopods, nudibranchs, and cartilaginous fish such as rays, angel sharks, and smooth-hound sharks are abundant in the waters of Tenerife. Endangered species such as the green sea turtle and angel sharks can also be found in the waters of Tenerife.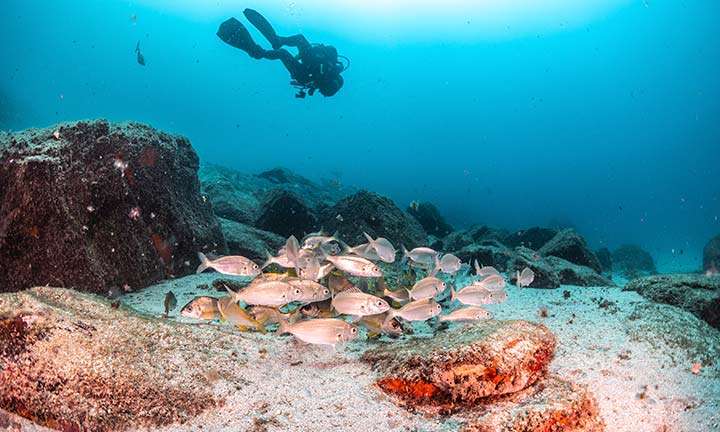 Diving conditions in Tenerife.
Thanks to stabletemperatures. throughout the year, both on the surface and underwater, ranging from 18°C in winter to 25°C in summer. ,a visibility range that can reach up to 30 meters, and crystal clear and calm waters.,the absence of strong currents makes Tenerife an exceptional destination for diving, especially in the southern part of the island. Furthermore, the diversity of its seabeds and dive sites allows for different options depending on the diver's level of experience.
Tips for diving in Tenerife.
Plan your trip and enjoy! First and foremost, choose an experienced diving school with top-quality equipment. At DPM Diving, we have been training divers for a decade in our five schools located in Thailand, Indonesia, and Spain, making us an international reference. Our Tenerife school, located in Playa de Fañabé, has earned a 5-star rating on Google based on over 200 reviews, showcasing the level of satisfaction among our customers.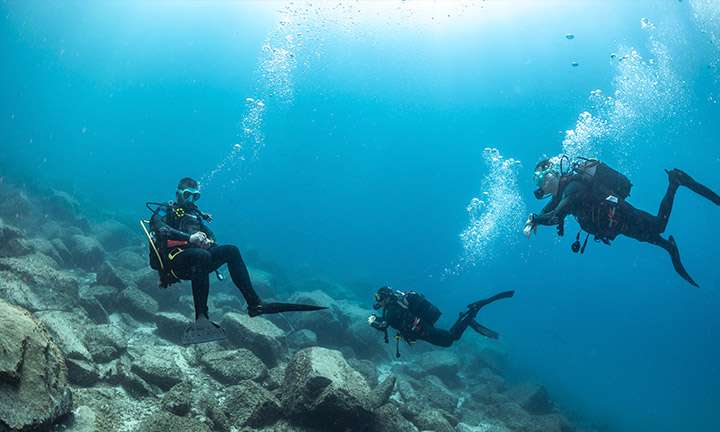 The best time to go diving in Tenerife
The Tenerife island climate blesses us with sunny days and mild temperatures throughout the year, which in turn ensures exceptional diving conditions no matter which month you visit. While the period between March and October offers greater species diversity, any time is perfect to discover the amazing underwater landscapes of Tenerife.