The shark is a fascinating animal. Although Steven Spielberg's mythical movie placed them at the top of the scale of the world's most terrifying species, the reality is very different. There are more than 500 different shark species, and the majority of them are harmless. Shark attacks are not frequent, and in many cases, they are the result of accidents or acts of self-defense, as humans are not part of their preferred diet. The bad reputation is slowly fading away, giving way to a deeper understanding and respect for this fantastic endangered animal. In this article, we gather some of the best places in the world to scuba dive with sharks.
The beauty of swimming with sharks
Those who have had the opportunity to see the magnificence of a whale shark up close, the power of a great white shark, or the curious shape of a hammerhead shark, know the beauty of these misunderstood animals that are vital for the maintenance of the marine ecosystems where they live. Diving with them is an unforgettable experience, to be lived with respect towards them, without disturbing or confusing them.
7 destinations for shark diving
Below are some of the best places to spot sharks in their natural habitat. At DPM Diving, we have 5 diving schools spread across Thailand, Indonesia, and Spain, with a professional team with extensive experience in interacting with sharks.
Galapagos Islands (Ecuador)
The Galapagos are a true sanctuary for divers, among whose most revered species are sharks. It is relatively easy to spot hammerhead, tiger, whale, or blacktip sharks here, with good visibility and the possibility to dive all year round (although the best conditions are between July and November). If you have the opportunity, don't hesitate. Swimming with sharks in the Pacific is another level.
Maldives
To the south of the Maldives archipelago, on a small island called Fuvahmulah, is the best place in the world to dive with tiger sharks, with a resident population of about 200 individuals, as well as other species like the bull or whitetip shark. Very close to the coast, starting from an easy dive, it is possible to swim alongside these magnificent creatures, with visibility of at least 30 meters.
The internationally renowned island for diving couldn't be missing from this list. Very close to Koh Tao, on the uninhabited Shark Island, you can come across the awe-inspiring whale shark, one of the most incredible shark species. Additionally, this diving spot boasts great biodiversity, with coral reefs and numerous species. Ask our team at DPM Koh Tao!
Tenerife (Spain)
Yes, in Europe, it is also possible to swim with sharks. Specifically, near the coasts of Tenerife, in the Canary Islands. In its calm waters, hammerhead, shortfin mako, basking, and angel sharks have been sighted. It's quite a spectacle for which you need luck and good guides. For that, trust the professionals at our DPM Diving school in Tenerife.
Bahamas
In the Caribbean island of the Bahamas, shark fishing has been banned for a long time, making it a fantastic place to dive with hammerhead, lemon, bull, or tiger sharks, with optimal visibility conditions. However, approaching the sharks is done through feeding, a practice that involves feeding the animals to facilitate the experience.
Malapascua Island (Philippines)
There are few places in the world where you can swim with thresher sharks, and Malapascua, located north of the Philippine island of Cebu, is one of them. Every year, it attracts thousands of divers who don't want to miss the opportunity to encounter this unique shark species with its impressive tail and bulging eyes.
Nusa Penida (Indonesia)
Cristal Bay is one of the best dive sites in Nusa Penida, an island located near Bali, and a perfect place to dive with reef sharks or bamboo sharks, as well as the famous manta rays. Our team at DPM Diving Nusa Penida is experienced in this. Ask us for the best time to discover them.
Precautions and tips for shark diving
As mentioned at the beginning of the article, most shark species are not dangerous, and none of them are particularly interested in hunting humans in wetsuits. However, it is necessary to take some precautions to avoid accidents. Keep in mind that sharks are predators and may be confused due to limited visibility. For this:
Wear gloves and a hood.
Observe them in a vertical position.
Avoid using bright colors.
Stay close to the group.
Don't behave like prey.
Never lose respect for them.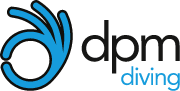 We are a team of Ocean Lovers with a Mission: to Educate, Train and Inspire Divers, creating not only explorers but also Ambassadors of the Ocean. At DPM Diving you can get Diving Courses from total Beginner to Professional Levels. Join Us!