Having your own dive computer is an essential tool, whether you are a beginner, advanced or a professional diver (Dive Master – Instructor)
In this post we tell you all you need to know to choose your first dive computer!
---
Why do I need
a Dive Computer?
For many, from their initial course, they want to know everything about diving, including the depth at which they are diving, and it is necessary to understand that it is an extremely important tool since the computer will provide us with information before, during and after the dive.
---
Advantages of having
your own dive computer
Know your current depth
It is very important to know this information, as you should never dive beyond the limits of your certification.
Open Water – 18 meters
Advanced Adventurer – 30 meters
Deep Diver – 40 meters
Check no-decompression stop time limit
Remember that recreational diving is not allowed to exceed no-decompression limits, so it is important to check this information at all times, especially if deep dives are planned.
Ascent speed
With our dive computer we will be able to check our ascent speed and in case we are ascending fast our computer will inform us with sounds or flashes on the screen.
Safety Stop
It is always recommended to perform a safety stop at 5 meters for 3 minutes for each dive deeper than 10 meters. The dive computer will be useful to check that we are at the correct depth and for the time required during the safety stop.
Performing decompression stops if needed
Whether you are a recreational diver or a technical diver and you need to do a decompression stop, your dive computer will provide you with the necessary information to make the necessary decompression stops safely.
Planning dives
With our dive computer we will be able to plan our dives before jumping into the water to make sure that everything planned is within the parameters of our certification and experience, depth, dive duration and to know what the no decompression limits are.
Dive log
We will be able to access all the information of our dives, see the time of entry into the water, maximum and average depth, duration of the dive, water temperature, surface interval and we can also check the dive profile in a graph.
Check if we made a mistake
With our dive computer we will be able to check if we have skipped any stops or if we have dived beyond the planned limits.
---
How to choose a dive computer?
When buying a computer we will find different options of models, colors, prices, size, brand, etc.
Look for the computer that suits your needs and budget, there are plenty of options to choose from.
Here are some details you should check when buying a new dive computer:
Dive modes
Dive computers usually include Air, Nitrox and Gauge modes, some models also include Freediving mode.
Size
You will find computers of various sizes, from small ones that are the size of a normal watch, which you can use in and out of the water, to larger dive computers for use only during the dive.
Multiple Gases
As mentioned above, most computers include the option of Air and Nitrox, which is an advantage if you are certified or plan to do the Enriched Air Nitrox Specialty and wish to dive with this gas.
Other models include the option of being able to change the function of the gas you are using at the time of the dive, which is an advantage if you plan to start with decompression stop diving.
Alarms
Dive Computers have different types of alarms depending on the model, they may include visual alarms, audible alarms and some include vibration.
The alarms can be configured to warn us at a set depth or dive time, we can also set alarms for not to exceed partial pressures of nitrogen (1.4 or 1.6).
Simplicity
Some computers have several buttons while others only include one or two buttons, this will be reflected when navigating in the menu of our computer, remember that you should read the manual of your computer to know how to access each menu.
Battery
We can choose a computer that has a battery which can be replaced by the user, other models come sealed, so we must send our computer to an authorized center to make the replacement of our battery.
Some of the new and mid-high range computers come with a rechargeable battery, if we opt for this type of computer, we will have to connect it through a cable to recharge our battery, this can be something new, but also keep in mind that if you go for several days to dive to a place that does not have electricity supply, this could be a problem.
Integrated Compass
Normally this type of compass is built into mid-high end computers, it is useful to avoid having to carry a compass.
Wrist or console?
You can decide whether you want a wrist computer, watch type, or one that comes integrated into our instrument console and does not wear anything on our wrist.
---
Dive Computer Brands
Many of the big brands of diving equipment manufacture their own computers, so we can find dive computers in Mares, Aqualung or Cressi.
On the other hand we have brands that specialize in sports watches like Suunto or Garmin or exclusive dive computer manufacturers like Shearwater.
---
Popular Dive Computers
Here are some of some the most popular dive computer models among recreational divers.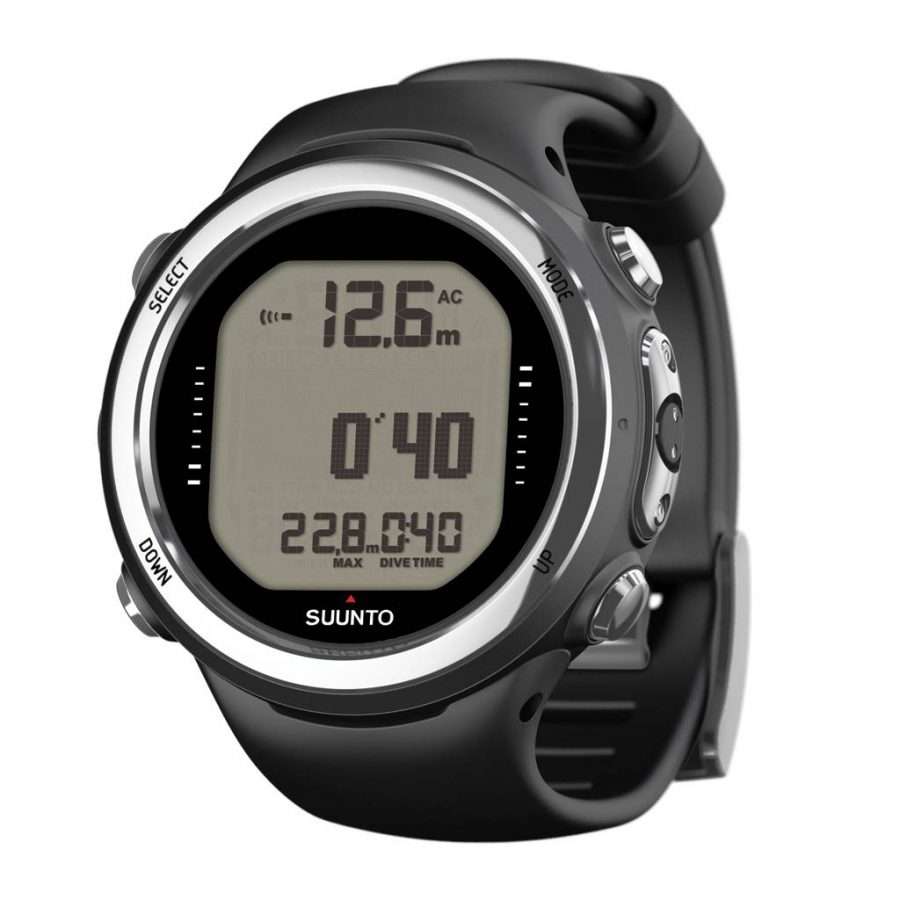 Suunto D4i
Pros
Perfect Size to use as a watch
Easy to use
Great price/quality
Easy to read screen
Many colors to choose
Cons
The strap is weak (can be replaced)
Suunto D5
Pros
Colored display

Great for new and experienced divers

Strong strap
Integrated compass
Cons
The rechargable battery need to be charged very often if you dive everyday
---
Cressi Leonardo
Pros
Easy to read display

Easy to use

Strong strap
Big button (easy to press even with gloves)
Cons
Not suitable to use a daily watch
---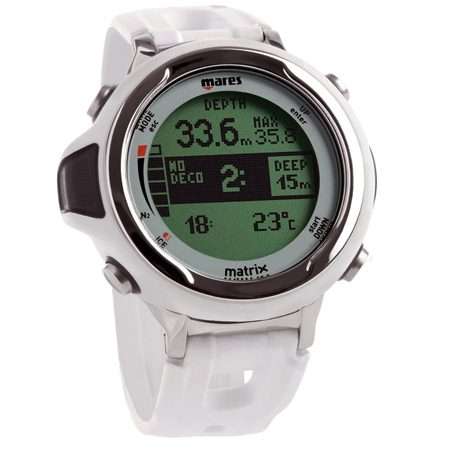 Mares Matrix
Pros
Easy to use

Perfect size

Digital compass
Dive profile visable during the dive
Cons
The strap quality could be better
---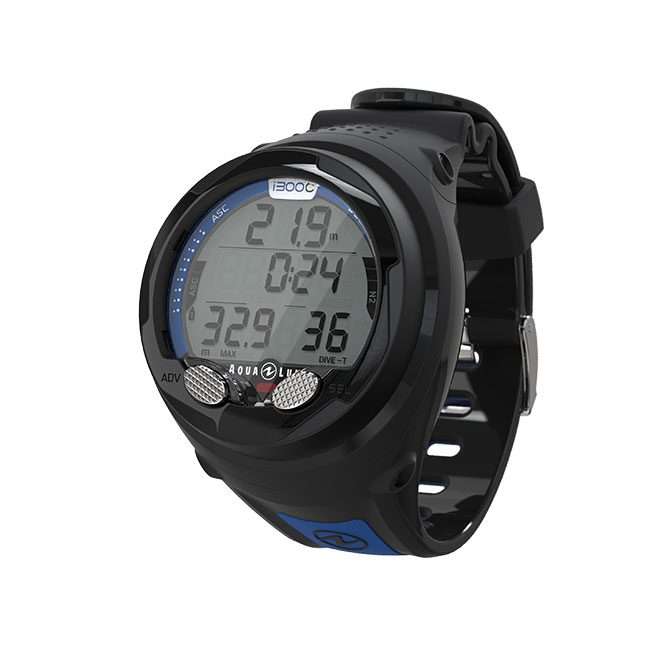 Aqualung i330c
Pros
Easy to change battery

Bluetooth access to data and settings

Multiple diving modes
Cons
Small screen
The buttons can be difficult to push when using gloves
---
Shearwater Teric
Pros
Super customizable

Easy to use

Great looking as a daily watch

Clear to read
Configurable algorithm
Cons
The price is higher than usual recreational dive computers
---
Final Advice
If you are looking to buy your first dive computer, we recommend you opt for a simple, mid-budget model like the Suunto D4i, whereas if you already know you want to make the leap to a more sophisticated, high-end dive computer, take a look at the Shearwater Teric.
For entry levels there are also more basic and budget friendly models such as the Suunto Zoop, which offers all the basic functionality, with a large screen, easy to use and a more affordable price.
---
Which dive computer do you currently use?
If you already have your dive computer, tell us in the comment section which you use and what you like about it (or what you don't) to help others choose theirs.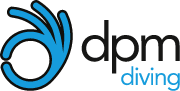 We are a team of Ocean Lovers with a Mission: to Educate, Train and Inspire Divers, creating not only explorers but also Ambassadors of the Ocean. At DPM Diving you can get Diving Courses from total Beginner to Professional Levels. Join Us!