Spain holds some of Europe's finest diving spots, and for good reasons. This is an objective reality, owing to several factors: its thousands of kilometers of coastline, its benevolent climate allowing year-round submersion, and the special protection of certain enclaves ensuring rich and diverse marine life. If you're considering diving in Spain, don't miss this article and discover the country's top underwater destinations. Remember, you can obtain your Open Water certification or other advanced certifications with us. Alternatively, enjoy a day of adventure beneath the sea with an unforgettable baptism. You'll find us in Costa Adeje, Tenerife, one of Europe's premier diving destinations.
The 7 Best Diving Sites in Spain
As is often the case with lists, some absences are painful. In Spain, many areas can compete with any other top international diving destination. Here, we recommend seven to whet your appetite.
1. Montaña Amarilla (Tenerife)
Tenerife is a must-visit for any diving enthusiast. The largest of the Canary Islands offers enviable conditions to explore its volcanic seabed, teeming with species like turtles, sharks, rays, octopuses, crustaceans, and more. Moreover, it caters to divers of all levels of experience.
2. Cabo de Palos (Murcia)
Opposite Cabo de Palos lie the small Hormigas Islands, a treasure trove in the Mediterranean that obtained Marine Reserve status in 1995. This protection has fostered a diverse array of resident species, including tuna, barracudas, grouper, and moonfish. The underwater landscape is rugged, offering many opportunities for advanced divers.
3. Costa Adeje (Tenerife)
Costa Adeje is one of the most popular areas in southern Tenerife, not only for its accommodation and leisure options but also for the beauty of its beaches. It's also a perfect area for diving, with numerous diving spots just a few kilometers away. Here, you can dive with green turtles, encounter plentiful rays (a common fish in the Canaries), spot seahorses, and various types of nudibranchs. Moreover, our DPM Diving school is located in Costa Adeje, specifically at Playa de Fañabé.
4. Islas Medas (Girona)
This archipelago of seven islands off the coast of Girona has been a Marine Reserve since 1990. Its rich meadows of posidonia seagrass and the multitude of species that inhabit its seabeds, including barracudas, grouper, and other large fish, are truly captivating. It may not be as well-known, but it leaves no one indifferent.
5. Las Calmas (El Hierro)
The Marine Reserve of Mar de Las Calmas on the small Canary Island of El Hierro is a true paradise for diving enthusiasts. There are several reasons for this: the visibility in its crystal-clear waters can reach up to 50 meters, the temperature is usually mild throughout most of the year, and its volcanic seabeds are teeming with beautiful flora and fauna, including sharks, manta rays, dolphins, and even whales.
6. Islas Cíes (Pontevedra)
Considered by many media and international organizations as one of the most beautiful beaches in the world, the Cíes Islands also harbor wonders below the surface. Being a protected environment away from mass tourism, its marine depths are rich in nutrients, sustaining abundant flora and fauna, including plentiful octopuses, crustaceans, and nudibranchs.
7. Los Gigantes (Tenerife)
If the exterior, with its impressive cliffs of the same name, already offers awe-inspiring views, the underwater scenery is equally mesmerizing. Here, you can frequently encounter mantas or bishops' fish and even spot the occasional dolphin, with a seabed ranging from extensive sandy areas to authentic volcanic sculptures. You can discover more diving spots in Tenerife in this article.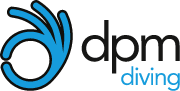 We are a team of Ocean Lovers with a Mission: to Educate, Train and Inspire Divers, creating not only explorers but also Ambassadors of the Ocean. At DPM Diving you can get Diving Courses from total Beginner to Professional Levels. Join Us!