Fine sandy beaches, crystal-clear waters, stunning natural landscapes, and vibrant nightlife. The Phi Phi Islands are one of the most desirable destinations in Thailand due to a combination of attractions that could easily paint the scene of an authentic paradise. Adding to this the beauty of its underwater landscapes and the rich biodiversity of its waters in the heart of the Andaman Sea, the direct impulse is to take a flight there.
DPM Diving has its own school on the main island and offers diving courses for all levels, so if you want to experience the thrill of underwater life along with the pleasures of solid ground, write to us! In the meantime, in this article, we'll provide you with some key tips to fully enjoy the Phi Phi Islands.
Guide to the Phi Phi Islands in Thailand
When to Visit the Phi Phi Islands?
While any time of the year can be suitable to enjoy Phi Phi, the consensus indicates that the best time aligns with the dry season, spanning from November to April. During this period, the weather conditions are more stable, with warm temperatures and fewer rains.
Dry Season (November – April): This is the most popular time to visit the Phi Phi Islands. Temperatures are warm and pleasant, and rainfall is minimal. November and December are ideal for enjoying warm yet not overly humid weather. The peak tourist season is in December and January, so you might encounter more people on the beaches and in hotels during this period.
Rainy Season (May – October): During these months, the Phi Phi Islands experience the rainy season and the southwest monsoon. The rains can be heavy, though they tend to concentrate at specific times of the day. If you prefer a quieter ambiance with fewer tourists and greener landscapes, this time might be suitable for you. Keep in mind that some facilities and tours may close during this season.
Weather in Koh Phi Phi
The weather in Koh Phi Phi, like in other parts of Thailand, varies throughout the year. From November to April, the climate tends to be warm and dry, with temperatures ranging from 25°C to 32°C. November and December are generally cooler, while January and February are the driest and sunniest months. March and April can be hotter and more humid. On the other hand, from May to October, rains are more frequent and can be intense at times. Temperatures remain warm, but humidity can be high.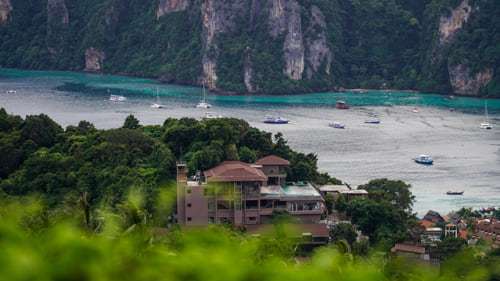 How to Get to the Phi Phi Islands?
To reach the Phi Phi Islands, you need to take a ferry or boat from the mainland, mainly departing from Phuket and Krabi.
From Phuket
By Ferry: From the Rassada pier in Phuket, you can take a ferry to the Phi Phi Islands. There are daily ferries that make this journey. The ferry ride usually takes around 1.5 to 2.5 hours, depending on the type of ferry you choose.
By Speedboat: Speedboats are faster but also more expensive than ferries. The speedboat ride can take about 1 hour.
From Krabi
By Ferry: From the Ao Nang pier or Krabi pier, you can take a ferry to the Phi Phi Islands. The ferry ride from Krabi takes about 1.5 to 2 hours.
By Speedboat: Similar to Phuket, you can also opt for speedboats from Krabi.
It's important to check the schedules and availability of ferries or speedboats before your trip, as they can change depending on the season and weather conditions.
Where to Stay in Phi Phi?
Accommodations for all tastes… and budgets. In Phi Phi, popular areas with resorts alternate with quieter spots offering bungalows and small lodgings.
Here are the standout areas:
Tonsai Village: Tonsai Village on Phi Phi Don is the main area where ferries and boats arrive. Here, you'll find a wide range of accommodation options, from luxury hotels and resorts to hostels and budget bungalows. It's convenient if you want to be close to shops, restaurants, and the island's nightlife.
Long Beach: Long Beach is a quieter and more relaxed beach that's about a 10-15 minute walk or boat ride from Tonsai Village. Here, you'll find resorts and bungalows that offer a calmer ambiance and panoramic views.
Laem Tong Beach: This beach is located at the northern tip of Phi Phi Don. It's an ideal choice if you're looking for a serene and relaxed environment. Here, you'll also find high-end resorts offering luxury amenities.
Ao Lo Dalam: Another area near Tonsai Village is Ao Lo Dalam, which offers a mix of accommodation, nightlife, and restaurants. This area is convenient if you want to be close to the action but still have a more relaxed ambiance compared to the bustling center of Tonsai.
Luxury Accommodations: If you're seeking luxury experiences, there are several five-star resorts on the Phi Phi Islands that offer top-notch amenities, private beaches, and beautiful views.
Where to Eat in Phi Phi?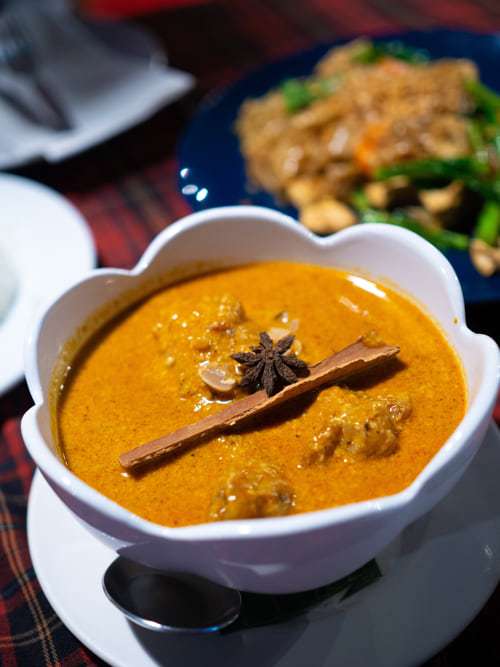 The best approach is to try various options. Phi Phi's culinary offerings are diverse and, like in all of Thailand, delicious. The most common choices include:
Markets and Street Stalls: In Tonsai Village and other areas, you'll find night markets and street stalls offering budget-friendly and delicious Thai food options, such as pad thai, chicken skewers, and fresh seafood.
Fresh Seafood Cuisine: As Phi Phi is an island, you'll find many options for fresh seafood at restaurants along the coast. Some places even let you choose your own seafood and then prepare it to your liking.
Restaurants with Panoramic Views: Some resorts and restaurants on hills or overlooking the sea offer dining experiences with spectacular panoramic views. These places are ideal for a romantic sunset dinner.
Beachside Dining: On many beaches, especially during the day, you'll find restaurants and bars on the sand offering refreshing drinks and simple dishes to enjoy while you relax by the sea.
What to See and Do in Phi Phi?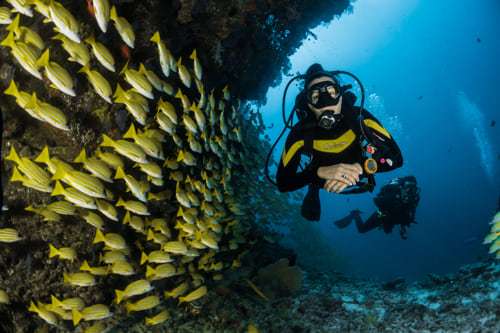 If we had to narrow down to just 10 activities on the Phi Phi Islands, they would likely be these:
Maya Bay: This iconic bay on Koh Phi Phi Leh is famous for its crystal-clear waters and beautiful cliffs. Maya Bay gained notoriety from the movie "The Beach." Although it was closed for environmental rehabilitation, you can still enjoy its views from a distance or on tours passing by.
Snorkeling and Diving: The waters around Phi Phi are ideal for snorkeling and diving. Explore coral reefs and diverse marine life, including tropical fish and possibly reef sharks.
Viking Cave: Located on Koh Phi Phi Leh, this cave is famous for its paintings and swallow nests found inside. The exterior views of the cliffs are also stunning.
Monkey Beach: This small beach is home to monkeys that often interact with visitors. Exercise caution and follow guidelines to avoid disturbing wildlife.
Viewpoint: Hike up to the viewpoint on Koh Phi Phi Don for panoramic views of the surrounding islands. There are several hiking trails that lead you here.
Boat Excursions: Many excursions are available, such as sunset boat tours, visits to nearby islands, and boat parties. These tours allow you to explore different islands and points of interest.
Beaches: Phi Phi's beaches are beautiful and diverse. In addition to those mentioned earlier, there are other beaches like Long Beach, Loh Dalum Beach, and Ao Ton Sai where you can relax, swim, and sunbathe.
Nightlife: Tonsai Village is known for its lively nightlife. There are bars and clubs offering evening entertainment, including beach parties and live music.
Water Activities: Apart from diving and snorkeling, you can enjoy activities like kayaking, paddleboarding, night snorkeling, and more.
Island Exploration by Kayak: Rent a kayak and explore the waters around the islands at your own pace.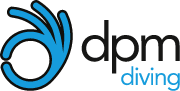 We are a team of Ocean Lovers with a Mission: to Educate, Train and Inspire Divers, creating not only explorers but also Ambassadors of the Ocean. At DPM Diving you can get Diving Courses from total Beginner to Professional Levels. Join Us!